MWII and Warzone Season 4 Roadmap Revealed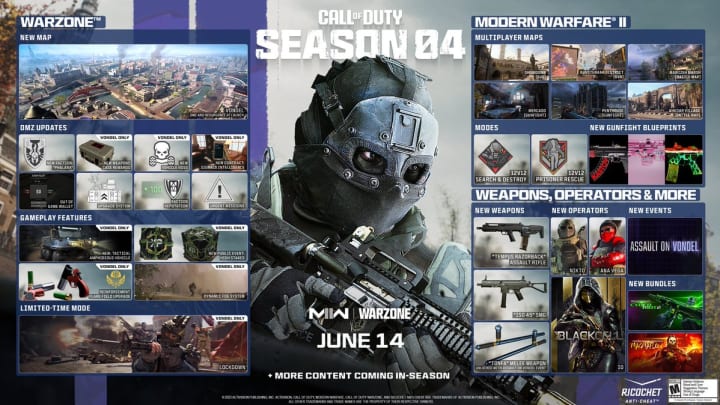 The MWII and Warzone Season 4 roadmap is here. / Activision
The Call of Duty: Modern Warfare II and Warzone Season 4 roadmap is finally here with all the new updates coming on June 14.
After the successful launch of Warzone Ranked in Season 3 Reloaded, the Call of Duty Staff has published the next major changes coming to the Battle Royale, including rumored new map, Vondel. MWII will also receive seven new Multiplayer maps.
Here's a breakdown of the new weapons, Operators, maps, and more coming to MWII and Warzone Season 4.
MWII and Warzone Season 4 Roadmap Revealed
Warzone
Modes
Lockdown (June 28 launch)
Resurgence
Warzone Ranked
DMZ
New Operator upgrades
Forward Operating Base
Urgent Missions
Wallets
Dynamic Fog
BR Gameplay Features
Tactical Amphibious Vehicle
Favorite Supply Box
Reinforcement Flare
New subterranean Gulag for Vondel (in-season)
Vondel will also be live at launch to host Resurgence and DMZ, and standard Battle Royale in-season.
Modern Warfare II
Multiplayer Maps
Showdown (Core Map)
Kunstenaar District (Core Map)
Mercado (Gunfight Map)
Penthouse (Gunfight Map)
Mawizeh Marshlands (Battle Map)
Ahkdar Village (Battle Map)
Vondel Waterfront (Core Map, in-season)
Modes
12v12 Search & Destroy
12v12 Prisoner Rescue
Ranked Play
Raid Episode 4 (Season 4 Reloaded)
New Weapons and Operators
Weapons
Tempus Razorback Assault Rifle
ISO 45 SMG
Tonfa Melee
[Redacted] Shotgun (in-season)
Operators
Nikto
Io
Ana Vega
Izanami (in-season)
Butch (in-season)
MWII and Warzone Season 4 go live on June 14.