Nabil Fekir FIFA 22: How to Complete the Road to the Knockouts SBC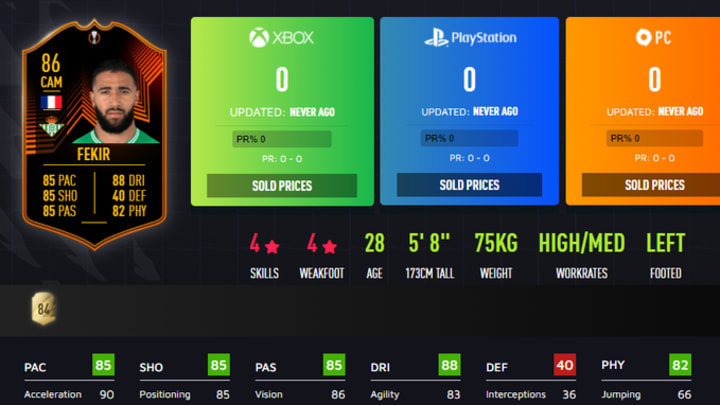 Photo by FUTWIZ
Nabil Fekir FIFA 22 Road to the Knockouts SBC went live Oct. 16 and it's one of the best, if not the best SBC released in the game so far.
Road to the Knockouts is a new UEFA promotion in FIFA Ultimate Team celebrating the teams and players competing in all three competitions. Players in the Champions League, Europa League and Europa Conference League were all given promotional items with boosts and the chance to earn additional upgrades.
In year's past, Road to the Final tracked a player's team throughout the competition upgrading as they progressed through the tournaments. This year, it's all about the group stages with chances to earn two additional upgrades through advancing and winning three of their remaining four matches.
Nabil Fekir FIFA 22: How to Complete the Road to the Knockouts SBC
Here's how to complete the RTTK Fekir SBC:
Segment 1
# of Players from La Liga: Min. 1
TOTW Players: Min. 1
Squad Rating: 83
Team Chemistry: 70
# of Players in the Squad: 11
REWARD: Small Gold Players Pack
Segment 2
# of Players from France: Min. 1
Squad Rating: 86
Team Chemistry: 65
# of Players in the Squad: 11
REWARD: Small Prime Gold Players Pack
Initially coming in around 75,000 coins to complete from scratch, the value speaks for itself. Fekir has four-star weak foot and skill moves and some of the best well-rounded statistics in the game. He's also got Outside Foot Shot, Flair, Finesse Shot, and Power Free-Kick for traits. With the potential to upgrade twice, this is a no-brainer. Complete this card when you can and you'll either have a top-tier starter or super substitute.
RTTK Fekir expires Oct. 23 at 1 p.m. ET.