Nadeshot Warzone Loadout: What Does He Use on His M4A1 and Kar98k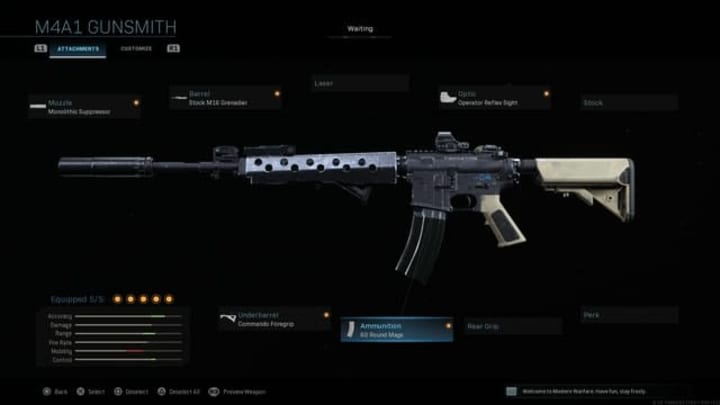 Nadeshot Warzone Build features two primary weapons, the M4A1, and the Kar98k. / Photo Courtesy of Infinity Ward
Nadeshot Warzone loadout features two primary weapons, the M4A1, and the Kar98k. Here is a breakdown of his main Warzone class setup.
Nadeshot Warzone Loadout
The first weapon he uses is the M4A1. It is one of the most popular ARs in the game and for a good reason. The weapon has an excellent range and is relatively easy to control.
Muzzle: Monolithic Suppressor
Barrel: Stock M16 Grenadier
Optic: Operator Reflex Sight
Ammunition: 60 Round Mags
Underbarrel: Commando Foregrip
With these five attachments, the M4A1 has increased damage range, sound suppression, ammo capacity, and recoil control. Your mobility is sacrificed, but agility becomes less important on a large scale map. If you are someone who wants more movement, however, replace the Operator Reflex Sight for a Sleight of Hand Perk or get rid of the stock. 
His secondary weapon is the Kar98k. Marksmen Rifles shoot like Sniper Rifles but have the movement of an AR. Matthew "Nadeshot" Haag only has one perk on the weapon, and that is the Sniper Scope. There are plenty of Optics to choose from and will depend on a player's situational awareness, but if you want range, it is best to use the Sniper Scope.
For his perks, he uses Cold Blooded (Perk 1), Overkill (Perk 2), and Amped (Perk 3). His lethal is a Semtex, and his tactical is a Heartbeat Sensor.
Check out our Nickmercs Warzone Build for more ideas on how to build the best Warzone loadout.