Top Games
NBA 2K22 Black Friday Deals 2021 Listed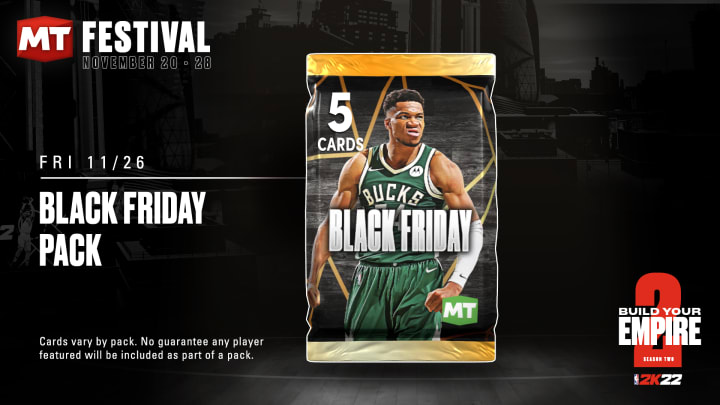 "Black Friday Packs are out now featuring the best cards in MyTeam." / Image courtesy of 2K
Black Friday 2021 is finally here, which means it's the perfect time to shop for anyone who is a fan of NBA 2K22.
Here's a breakdown of the NBA 2K22 Black Friday deals for 2021.
NBA 2K22 Black Friday Deals 2021 Listed
To kick things off, 2K have launched their special, limited-time Black Friday MyTeam packs, which are set to expire on Saturday, Nov. 26, at 11 a.m. ET.
The Black Friday Packs are available at 11,250 VC for one pack, 101,250 VC for 10 packs, and 202,500 VC for 20 packs. Each Black Friday Pack contains one guaranteed Ruby rarity player or higher from previous releases (e.g. NBA 75th Anniversary Giannis Antetokounmpo) and four random items.
Additionally, 2K also surprisingly dropped limited-quantity Fast Break: NBA 75th Anniversary Packs at 4 p.m. ET, which unfortunately went on to sell out within the hour.
The special deals didn't stop there this year, however, as 2K also extended the Black Friday sales to Swag's for MyCareer players.
Just in time for Black Friday and Cyber Monday, clothing items from Visitor on Earth, Just Don, Market, Color Blind, Bricks & Wood and The Future is on Mars (TFIOM) are available at a 20% discount.
There are some Black Friday-themed merch in Alter Ego as well, but those are seemingly ironically not a part of the sale.
Lastly, for those who have yet to pick up a copy of the game, NBA 2K22 is currently widely available at 50% off and higher from the Microsoft Store, PlayStation Store and retailers such as GameStop.