Top Games
NBA 2K22 Current Gen Oct. 20 Update 1.5 Patch Notes Explained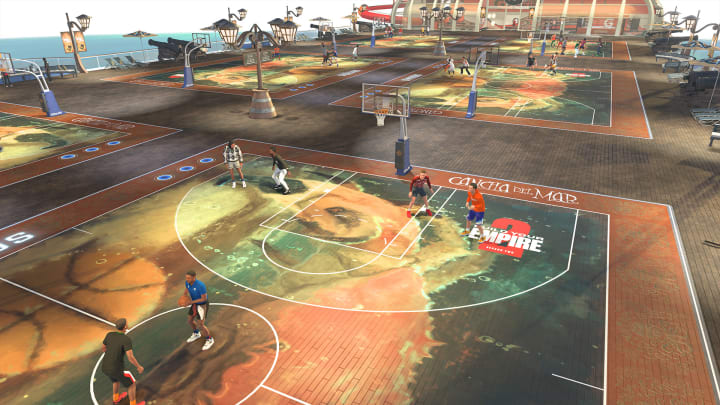 The latest patch brings improvements and fixes in preparation of the Season 2 launch in NBA 2K22 on Current Gen. / Photo courtesy of 2K
The second major patch for NBA 2K22 on Current Gen since launch has just landed.
For those on PlayStation 4, Xbox One, PC (via Steam) and Nintendo Switch ready for Season 2: Build Your Empire to officially go live, here's a breakdown of the NBA 2K22 Current Gen Oct. 20 Update 1.5 patch notes.
NBA 2K22 Current Gen Oct. 20 Update 1.5 Patch Notes Explained
Here is the list of patch notes for the Oct. 20 update for NBA 2K22 Current Gen:
General
Courts/arenas for the following teams were updated to match recent changes made for the new NBA season: Cleveland Cavaliers, Dallas Mavericks, Minnesota Timberwolves, Phoenix Suns, Oklahoma City Thunder (+jumbotron), Toronto Raptors
The following NBA players have received new scans and/or had general likeness updates made to them: Jonathan Kuminga, Franz Wagner, Josh Giddey, Moses Moody, Evan Fournier, Jabari Parker, Derrick White, Payton Pritchard, Keon Johnson, Tre Mann, Cameron Thomas, Trey Murphy III, Herbert Jones, Charles Bassey, Scottie Barnes, Isaiah Jackson, Etan Thomas, Derrick Favors, LeBron James, Steph Curry, Tyler Johnson, Marvin Bagley III
The following WNBA players have received new scans and/or had general likeness updates made to them: Jessica Breland, Erica Wheeler, Victoria Vivians, Tiffany Mitchell, Amanda Zahui B., Sylvia Fowles, DeWanna Bonner, Stefanie Dolson, Bria Holmes, Layshia Clarendon, Natisha Hiedeman, Lauren Cox, Ruthy Hebard, Crystal Dangerfield, Emma Cannon, Kysre Gondrezick, Chelsey Perry, Jasmine Walker, Arella Guirantes, Dijonai Carrington, Stephanie Jones, Dana Evans
Gameplay
Adjusted the logic for several shooting badges (including Chef, Limitless Spot-Up, Difficult Shots, Circus Threes, Rhythm Shooter, Catch & Shoot, Set Shooter, and Stop and Pop) so that each one triggers under the intended conditions and at the proper shooting ranges
Fixed an issue that was allowing shimmy hooks to play from the 3PT line
Signature animations will now properly reset after using the Build Tester in MyCareer
MyTeam
Various improvements and support for Unlimited and Triple Threat Online: The 100
Added support for Recurring and Event Exchanges
Various additional improvements to The Exchange to improve the overall user experience
Fixed an issue with MyCAREER Player Cards being available in unintended modes
Added Event Card support for Auction House searches from My Collection
Restarting during Skill Challenges should now work as intended
Signed Player Cards will no longer have distorted backgrounds in-game
Boosts applied to Shoe Cards will now correctly be applied in games
Added support for searching for Shoe Colorway Cards by brand in the Auction House
Prevented a case where players could accidently select multiple packs at once in MyTeam: Draft
Overall, this seems like a pretty promising patch, good on 2K for continuing to explain the changes in detail, albeit there are still plenty of ongoing bugs that players seem to be experiences such as the missing badges issue.