NBA 2K23 MyTEAM New Features Revealed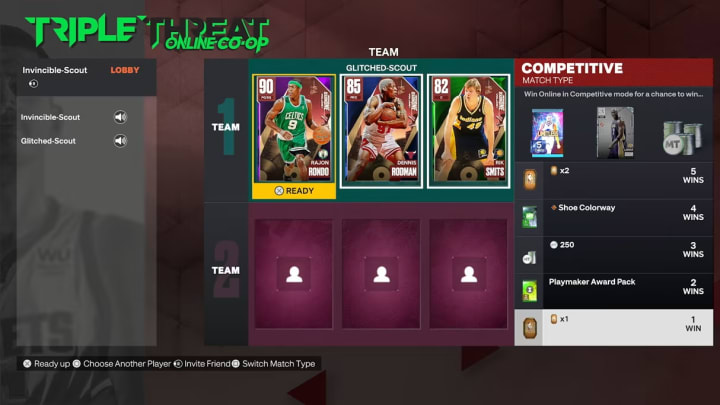 Photo by 2K/Visual Concepts
2K revealed brand new features coming to NBA 2K23's MyTEAM mode as anticipation for the upcoming basketball video game.
"We've implemented a number of highly requested changes to MyTEAM this year that were top of mind for our community, including the removal of contracts, along with the addition of Triple Threat Online: Co-Op that allows players to team up with friends for the first time ever to test their skills in Co-Op 3v3 online gameplay", Erick Boenisch, VP of NBA Development at 2K and Visual Concepts, said in a press release.
At the top of the Courtside Report, one change that will excite players is that Contracts are being removed from the game. "Contracts have been removed from MyTEAM! Permanent player cards are now yours to use as you please throughout MyTEAM without needing to fill up their contracts. Nothing has replaced contracts, they are simply gone."
NBA 2K23 MyTEAM New Features Revealed
Here are the highlights from the press release:
Triple Threat Online: Co-Op: For the first time ever in MyTEAM, this brand new game mode will allow players to partner with friends for Co-Op 3-v-3 online gameplay across different variations. Party Mode, Co-Op and Competitive Online.
Unlimited: The all-new Prestige Tiers allow players that reach the top tier to start over and unlock even more rewards. Players will earn Season Points, with every win or loss, that help them to advance tiers. Every win will provide a vault opening. Leaderboards are back and will show stats from friends and top players throughout the MyTEAM community. As an added bonus, a special icon will be displayed next to the names of players in the Top 10. Players can also earn a special icon for completing all possible tiers and prestiges for the Season.
Clutch Time Single Player: Jump into a single player version of Clutch Time, a fast-paced mode with a 4-point line, to take your best starting five and compete against the AI.
Starter Cards: Players can choose between All-Stars Ja Morant, Jimmy Butler or Joel Embiid to lead their collection. Players will get to play with their Starter Card choices in a Triple Threat game before finalizing their decision. After 10 games in any MyTEAM mode players will earn a 90 OVR Amethyst Fred Jones card to help jumpstart their team.
Exhibitions: In Exhibitions, players can now send player cards outside of their 13-player lineup on vacation around the globe and players will return with a special reward from their mission.
Trophy Case: This is a new way to earn top tier players from each franchise by completing a team's Trophy Case. With 15 Event Cards for each NBA franchise, showcasing key moments of their history, players can earn a Pink Diamond player for each team.
MyTEAM Unlimited Tournament: $250,000 MyTEAM Unlimited Tournaments return this year for each console generation. Reach the Emerald Tier in the new Unlimited before the first GameDay on Oct. 15 to participate. The finalists will be brought to an in-person setting to crown the $50,000 Console Champions, and the $200,000 Grand Champions.
Triple Threat Online: Co-Op will not be available on Nintendo Switch. For more information, check out the full Courtside Report.
NBA 2K23 releases Sept. 9 for PlayStation 4 and 5, Xbox One and Series S|X, Nintendo Switch and PC.