NBA 2K24 Best Dunk Package: Current and Next Gen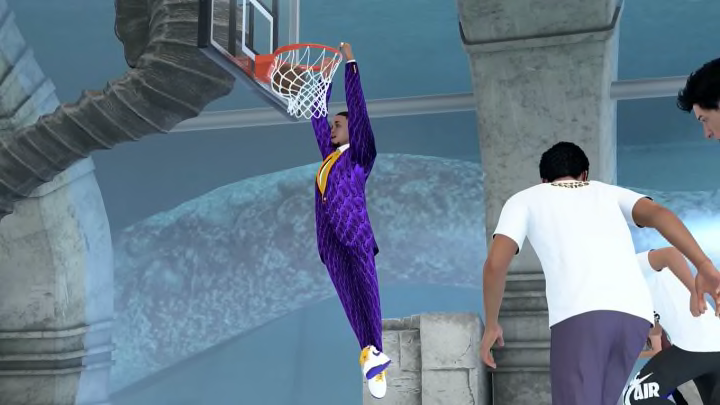 Here's the best dunk packages in NBA 2K24. / Visual Concepts
Looking for the best dunk package in NBA 2K24? We have the elite options on Current and Next Gen, including all animation requirements.
Now that NBA 2K24 has been out for a month, players know exactly which packages work the best in both NBA and Park games in MyCAREER. Although it ultimately comes down to personal preference, there are a few great options for each build type to ensure your player is unstoppable at the rim.
Here's a breakdown of the best NBA 2K24 dunk packages on Current and Next Gen.
NBA 2K24 Best Dunk Package: Current and Next Gen
The NBA 2K24 best dunk packages on Current and Next Gen are:
LeBron James
Klay Thompson
Giannis Antetokounmpo
The LeBron James dunk package allows you to fly in the air as you dunk from outside the paint. Klay Thompson's dunk package is another solid option that works well to avoid blocks by defenders sitting under the hoop.
Those with big men builds should opt for the Giannis Antetokounmpo dunk package instead. Although Antetokounmpo's dunk package shares the same maximum height requirement as the LeBron James dunk package, it allows for a lesser driving dunk and vertical to give more players the option to emulate the former NBA Finals MVP.
Those looking to customize their dunk package should try one of the following NBA 2K24 dunk packages:
One Foot Big Man Tomahawk
Pro Contact Alley-Oop
Elite Contact Alley-Oop
NBA 2K24 Best Dunk Package: Animation Requirements
The NBA 2K24 best dunk package all possess the following animation requirements:
| Package | Driving Dunk | Driving Layup | Minimum Height | Maximum Height | Standing Dunk | Vertical |
| --- | --- | --- | --- | --- | --- | --- |
| LeBron James | 84 | Any | 6'10 | 7'3 | Any | 64 |
| Giannis Antetokounmpo | 75 | Any | 6'5 | 7'3 | 75 | 50 |
| Klay Thompson | 56 | Any | 5'7 | 6'9 | Any | 35 |
For more on NBA 2K24, feel free to check out: