Necrosis Warzone Blueprint: How to Get the Holger-26 Blueprint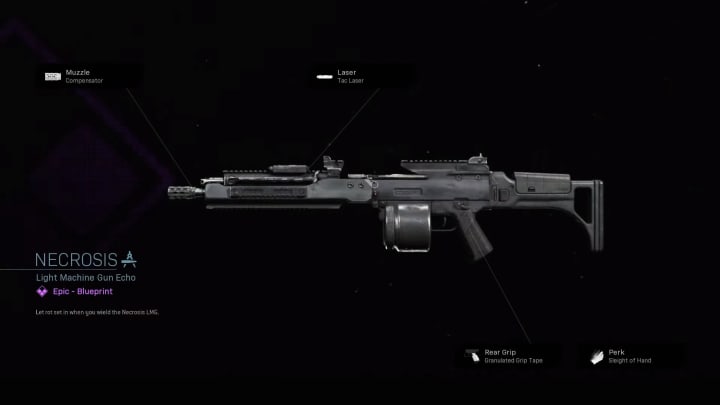 Necrosis Warzone Blueprint can be acquired through the Arachnid bundle. / Courtesy of Infinity Ward
The Necrosis Warzone Blueprint is a Blueprint for the Holger-26 light machine gun at the Epic rarity tier. It applies three special attachments to the gun and a perk. Here's how to get the Blueprint for yourself.
Necrosis Warzone Blueprint: How to Get the Holger-26 Blueprint
Blueprints are ways for Call of Duty players to outfit weapons with attachments they might not have unlocked. These Blueprint weapons can then be discovered in Warzone supply drops.
The Holger-26 light machine gun can be unlocked by reaching Season 1 Battle Pass Tier 15. It's described as a versatile light machine gun with 73 accuracy, 73 damage, 76 range, 70 fire rate, 52 mobility and 72 control.
The Necrosis Blueprint for the Holger-26 ups its accuracy, fire rate and control in exchange for a little bit of mobility. It adds the following attachments to the gun:
Muzzle: Compensator
Laser: Tac Laser
Rear Grip: Granulated Grip Tape
Perk: Sleight of Hand
To unlock it, players have to buy the Arachnid Store Bundle. That bundle can be purchased for 1,600 COD points, or around $15. It also includes the Spy Games Domino skin, the Fans Out Operator finishing move, a Domino quip, a Fatal Attraction calling card, the Widow charm, and the Web of Death emblem.