FIFA
Nemanja Vidić FIFA 22: Icon SBC Apparently Leaked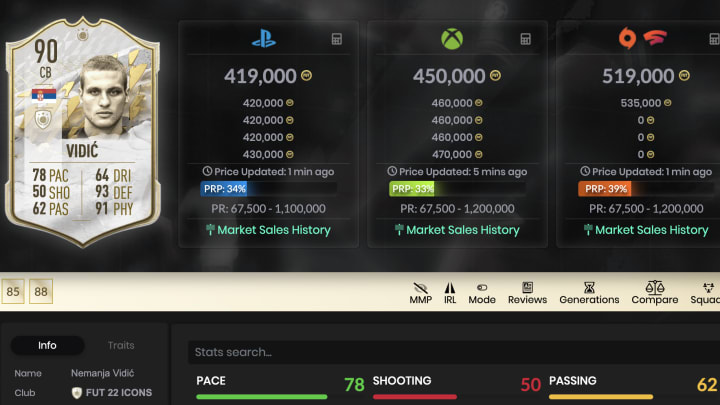 Nemanja Vidić's Prime Icon SBC has been leaked, and should arrive today in FIFA 22 according to FUTSheriff. / Photo Courtesy of FUTBIN
Nemanja Vidić and Kaká have been leaked as the next two Icon SBCs to be added into FIFA 22. According to the leaks, both Vidić and Kaká should be added as SBCs in Ultimate Team as soon as today 1 p.m ET.
Prime Vidić was leaked by FUTSheriff early this morning. The last Icon SBCs to be released in FUT were a Prime Icon Fernando Torres and Base Icon Clarence Seedorf on Jan. 10, and they were both successfully leaked by FUTSheriff, so Vidić has a likely chance of being added to the Icon SBCs today alongside Kaká.
You can purchase his Prime Icon off of the transfer market for around 450,000 coins on Xbox, 419,000 coins on PlayStation, and 519,000 coins on PC. Vidić is a strong defender in FIFA 22, with 93 defending and 91 physical. However, his passing and dribbling stats for a Center back are a bit low, so he may be better as a physical ball winner who always stays back in the defensive third. His 78 pace is reasonable as well, and at 6'3", he will be able to get the ball off of most smaller players, as well as score off of crosses with ease.
If EA release a Prime Vidić SBC at 1 p.m. ET, he shouldn't be too expensive compared to his transfer market value. There are many great options at CB in FIFA 22 for less than 400,000 coins, so this will have to be a very well-priced SBC to gain interest from players.