Netflix Gaming Limited Test Opens in Poland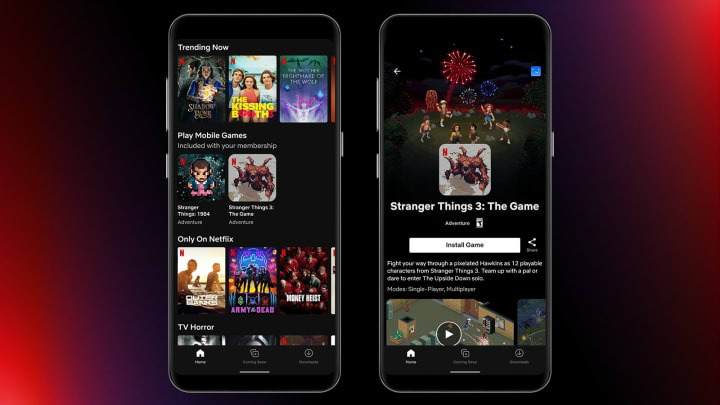 Netflix's first foray into gaming is available in Poland. / Photo courtesy of Netflix
Netflix's long-anticipated move into gaming has officially reached consumers, as the streaming giant has added a pair of games to its offerings in Poland.
Netflix subscribers in Poland can now play Stranger Things: 1984 and Stranger Things 3, two games based on the Netflix series of the same name, by launching them through the Android version of the Netflix app. Screenshots Netflix shared show that opening the games in the Netflix app sends the user to the Google Play store, where they can install either of the games.
The games have no ads or in-app purchases and are included with a Netflix subscription.
"It's very very early days and we've got a lot of work to do in the months ahead, but this is the first step," the Netflix Geeked Twitter account said Thursday.
"We'll keep you updated as we explore what gaming looks like on Netflix. Stay tuned."
Stranger Things: 1984 leans into the '80s theming of the series, described as a "stylized retro adventure filled with collectibles," in which players control many of the series' best known characters, using each character's special abilities to explore Hawkins, solve puzzles, and collect "all the Eggos and gnomes you can lay your hands on."
Stranger Things 3: The Game is more of a companion piece to the show's third series, letting players go through the season's story in an isometric adventure setting.
Netflix has yet to announce plans to get into non-mobile games, but it's said it will create games based on its original TV shows and movies, license those titles to other developers, and create new gaming IP.