NetherRealm Studios Ends Tournament Hosting Partnership With WePlay Esports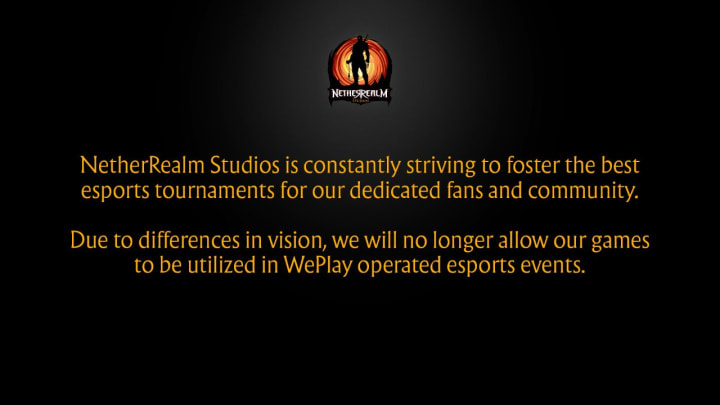 NetherRealm Studios and WePlay eSports Operations / Photo courtesy by NetherRealm Studios
NetherRealm Studios ended its tournament hosting partnership with WePlay Esports. The announcement was made official on NetherRealm Studios Twitter account.
WePlay Esports holds high-end production events for competitions such as CS:GO, Dota 2, and fighting games like Mortal Kombat. WePlay also tweeted a heartfelt response to the news about the companies breaking partnership to its fans. Fans have voiced their opinions with a mixture of emotions, with each company having its own vision of holding events by their own standards.
Although not much detail was given on both companies' statements on Twitter, besides holding a higher standard of operations. NetherRealm Studios wasn't the only studio to make this decision.
Bandai Namco also pulled support from WePlay Esports on the same day as NetherRealm Studios.
Bandai Namco had games like Soul Caliber and Tekken series, the same fighting game genre as Mortal Kombat. The company will be headed in its own direction and vision for holding esports tournaments.