Apex Legends
New Apex Legends Bug Takes 'Raining Men' Literally with Bodies Falling from the Sky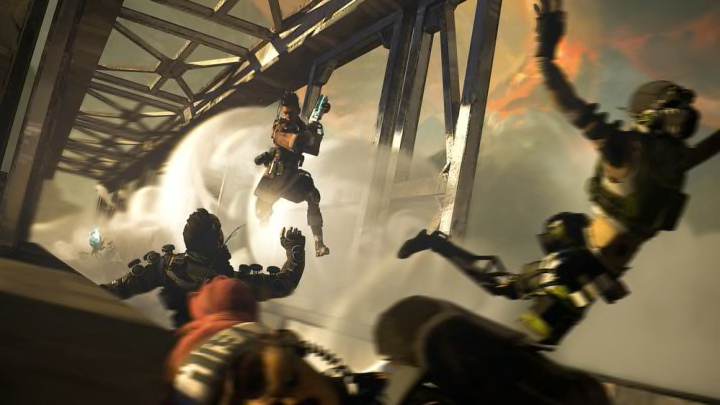 Some Apex Legends players are experiencing a new bug just in time for the new Scream movie. / Respawn Entertainment
Some Apex Legends players are experiencing a new bug just in time for the new Scream movie.
Respawn Entertainment is always looking for things to keep Apex Legends' players on their toes. After all, don't Collection events get old after the fifth or sixth release? Now, players can finally live the thrilling horror franchise Apex Legends had the potential to be with this brand new glitch. Some players have experienced actual bodies falling from the sky during matches—to both terrifying and downright hilarious reactions.
New Apex Legends Bug Is Making Bodies Hit the Floor
This phenomenon has been cataloged by Reddit user ChurchThe3rd—an apt name given the horror-genre-esque glitch—on the official Apex Legends subreddit board on Sunday, Jan. 16. In their post, they made a joke about the Weather Girls' song "It's Raining Men" (1983) which is yet another well-placed reference.
In their video, they're running through World's Edge when the body of a Valkyrie appears and drops from the sky to land unceremoniously at their feet. Intrigued, they stop and look up, only to witness two more bodies casually fall and land in the same spot.
Reddit user Kanji4Vermilion posted the same experience the following day, noting that it scared them at first. User ironmunkey777 replied that the same thing happened to them, as well, in the exact same spot.
What makes this even more bizarre is that players typically don't leave corpses behind when they die. Instead, there's usually a "death box" with loot inside. So, where are the bodies coming from? Well, according to player reports, there are several theories with no clear answer. From disconnects to timing out in mid-air and more, players have been doing their best to piece this phenomenon together.
The general consensus of the playerbase at the time of writing is, of course, a resounding: "what the f***?"