Apex Legends
New Apex Legends Leak Reveals 'Dark Depths' Event Details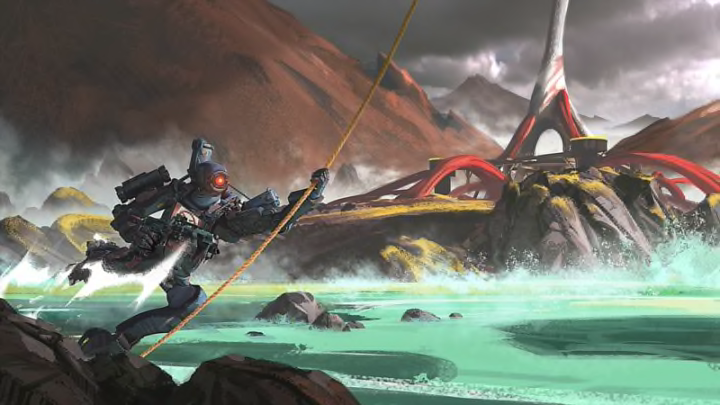 New leaks have appeared surrounding the previously revealed "Folklore" event in Apex Legends, calling it "Dark Depths." / Respawn Entertainment
New leaks have appeared surrounding the previously revealed "Folklore" event in Apex Legends, calling it "Dark Depths."
A new event has been spotted on the horizon by Apex Legends informants. Originally uncovered by credible leaker GarretLeaks, this event was coded as "Folklore" prior to this recent information. Now, according to leaked screenshots, it has been renamed "Dark Depths" and features an assortment of cosmetics centered on the mythology of the sea.
Here's what we know about the event.
Apex Legends "Dark Depths" Event Details: Cosmetics and More
Unfortunately, most of the posts published about the event in recent days have been deleted or taken down. DBLTAP cannot confirm if this was done voluntarily or if Respawn, itself, reached out to have them removed. Fortunately, the comments are still active—as is an image posted to imgur—so we can make some assumptions regarding the general theme.
According to information gleaned from the leaks, the "Dark Depths" is a pirate-themed event with a mystical twist. It includes skins for Fuse, Ash, Lifeline and Horizon with rumored inclusion of Loba as well as weapon skins for the R-301, Volt, Spitfire, and R-99.
Fuse's skin is meant to be a take on Poseidon, the Greek god of the sea. Ash resembles the "sunken head of a ship" covered in barnacles and suffering some erosion damage. Lifeline is meant to be a mermaid—though some fans think she looks closer to a deep-sea diver—and "Overfloater" Horizon has been complimented significantly on her hairstyle. Unfortunately, the quality of the image is poor, so DBTLAP cannot completely confirm any appearances.
Leakers have stated this event is meant to go live after the holidays in January or February 2022.