New Limited-Time Mode 'Control' Announced for Apex Legends Season 12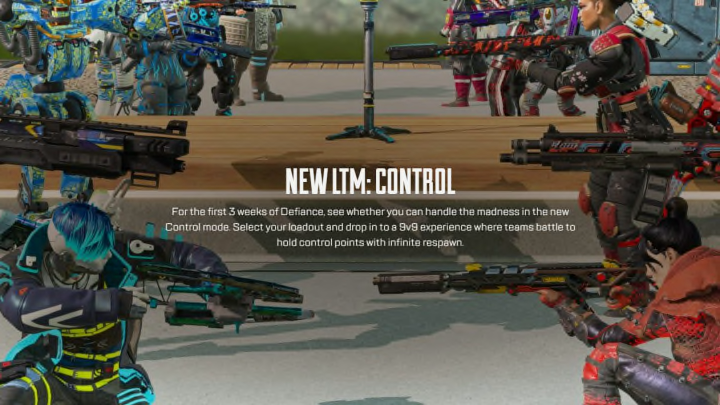 A new limited-time mode will be joining the line up of new content in Apex Legends Season 12: Defiance. / Respawn Entertainment
A new limited-time mode will be joining the lineup of new content in Apex Legends Season 12: Defiance.
Some content information has dropped for the next season of Apex Legends—Season 12: Defiance. From a new legend, Mad Maggie, to some unseen changes to Olympus, players are undoubtedly excited for everything coming to the game in the next few weeks. Of these announcements, the most talked about appears to be the brand new limited-time mode: Control.
Here's what we know about the mode.
New Limited-Time Mode Announced for Apex Legends
Control is setup as a 9-v-9 team death match-style game where two teams of nine battle for control over certain points in the game. Legends and Loadouts are in players' hands as they drop down and duke it out. Strategy is of the utmost importance here as players will be able to respawn into the match as many times as they'd like.
It's currently unclear what the exact win conditions are for Control. Whether players need to hold a point for a certain length of time, hold multiple points until time runs out, or simply be holding the point at the end of the match has yet to be revealed.
So far, fans are cautiously optimistic. Some have made comments in the vein of "Finally!" or gratitude from Battle Royale burnout. Others are worried that the mode will rapidly become "unplayable" as players are rarely incentivized to stick around once their team begins to lose.
For better or worse, only time will tell how the player base handles Control.
Season 12: Defiance is scheduled to drop on Feb. 8. More information about the season can be found on the official Apex Legends website.