New Modern Warfare 2 Ads Feature Steve Aoki & Pete Davidson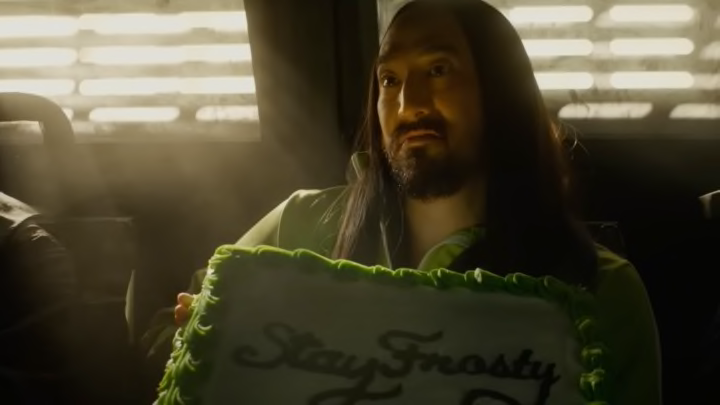 Steve Aoki in the new Modern Warfare 2 teaser / Image courtesy of Activision
Call of Duty seems to be continuing its history of celebrity appearances with both Steve Aoki and Pete Davidson featuring in new advertisements.
Some new teaser trailers for Modern Warfare 2 have been released ahead of the game's official worldwide reveal on June 8. Posted to the official Call of Duty Twitter account, the first teaser released on June 2 sees ex-SNL cast member Pete Davidson sitting in the back of the truck alongside iconic MW2 characters, such as Price and Ghost.
The teaser, captioned with "Now we know what Pete will be up to on Saturday nights", shows Davidson asking other characters if they brought any snacks for the mission, before mishandling a dangerous weapon prompting Price to suggest they leave Davidson in the truck.
A second teaser, released on June 6, features the same cast of MW2 character though this time accompanied by DJ Steve Aoki who taps one of the characters on the shoukder to ask what they're listening to. "Oh. It's me."
Aoki then offers the crew some cake iced with the words "Stay Frosty" only to be met with Price once again suggesting that the DJ is left in the truck.
The Call of Duty franchise is no stranger to using celebrities in some of their advertisement materials. Marvel star Chris Evans previously appeared in an ad campaign for Call of Duty Online, which was marketed exclusively in China back in 2015.
With Modern Warfare 2's official global reveal kicking off tomorrow, it'll be interesting to see what else the game has in store ahead of the premier.