New Pokemon Legends: Arceus Trailer Reveals Hisuian Diamond and Pearl Clans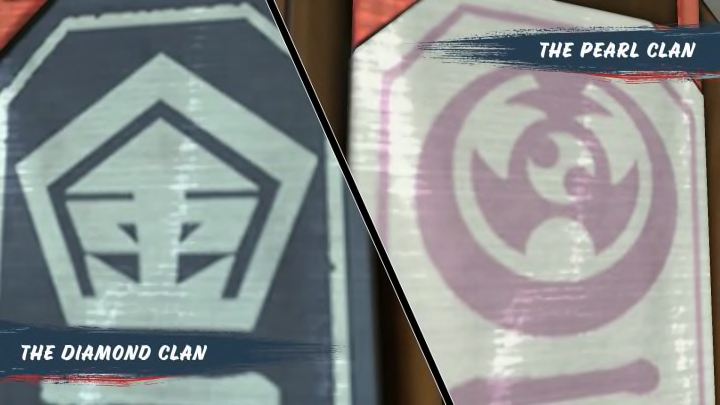 A new trailer has dropped for Pokemon Legends: Arceus that introduced players to two in-game clans—the Diamond Clan and Pearl Clan... / The Pokemon Company
A new trailer has dropped for Pokemon Legends: Arceus that introduced players to two in-game clans—the Diamond Clan and Pearl Clan—along with their lore and leaders.
More information has been revealed about the Hisui region as the release date for Pokemon Legends: Arceus rapidly approaches. In a new trailer published earlier today, Wednesday, Dec. 15, trainers were able to get a look at two clans that share the region: the Diamond Clan and the Pearl Clan. They were also greeted by a guild of traveling merchants where trainers will be able to pick up some of the items they'll need on their journeys.
Here's what we know about the trailer and the new information.
Pokemon Legends: Arceus Introduces Hisuian Diamond and Pearl Clans
The Diamond Clan is headed by a man named Adaman—a clear reference to the Adamant Orb meant to be held by Dialga, the mythical Pokemon of Time, in Pokemon (Brilliant) Diamond. In the main series games, it is found on Spear Pillar and can be picked up alongside the encounter with the legendary. Sections of Adaman's hair are the same iconic shade of dark blue as his clan's sigil.
This clan is typically dressed in dark navy blue and lighter blue and/or silver with red accents.
The Pearl Clan is led by a woman named Irida—a reference to Palkia's item-counterpart, the Iridescent Orb, found in Pokemon (Shining) Pearl on Spear Pillar alongside the encounter with the mythical Pokemon of Space. Irida is blonde with bright blue eyes and wears flowing white garments with magenta accents. She describes herself as cautious and one who thinks things through.
This clan is typically dressed in white and pale pink with sunny orange accents.
Trainers were also introduced to the Gingko Guild of traveling merchants, led by Ginter. The guild lives and travels out of a caravan wagon with white-and-yellow guild symbols on the sides. Trainers can approach merchants and purchase important items they may need on their travels, including various types of berries. Another merchant, Volo, may be a significant player in the narrative.
A new update on the official Pokemon Legends: Arceus webpage has also revealed that those with save data from Pokemon Brilliant Diamond and/or Shining Pearl on their Nintendo Switch will gain access to a special in-game quest that culminates in an encounter with Darkai—as well as a "modern" Team Galactic outfit for their avatar.
Pokemon Legends: Arceus releases on Friday, Jan. 28, 2022.