Niantic Labs to Launch 'Adventure Pet Game' Peridot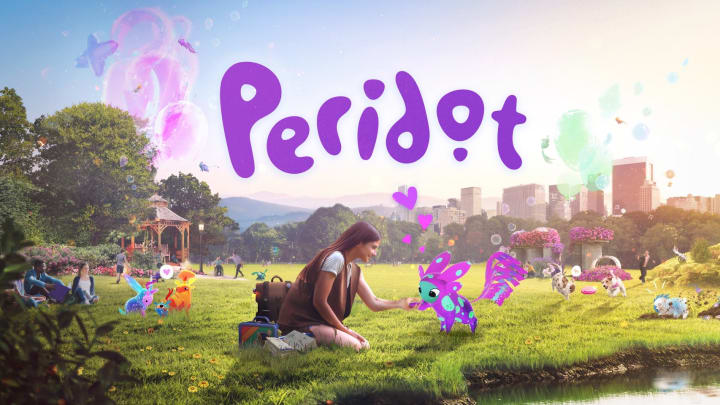 Niantic Labs, developer of Ingress, Pokemon GO, and Pikmin Bloom has announced a new project: Peridot. / Niantic Labs
Niantic Labs, developer of Ingress, Pokemon GO, and Pikmin Bloom has announced a new project: Peridot.
In a tweet published and then retweeted by the verified Niantic Labs account, the developer announced a brand new augmented reality project: Peridot, the virtual pet game. According to a brief blurb on the announcement tweet, Peridot is a "real-world adventure pet game" where players raise and breed unique creatures.
Niantic Labs to Launch Virtual Pet Game
Players will enter the "fantastical world of Peridot" where they meet, raise, care for into adulthood, and then have the opportunity to breed these unique titular fantasy creatures. The goal of the game is to "re-diversify" the Peridot species and keep them from dying out.
Throughout the course of the game, players can pet, feed, play with and teach their Peridot tricks in order to facilitate their growth. This keeps them healthy and allows them to reach adulthood. Additionally, they have the opportunity to take their pets on walks wherever they go ⁠— all from the comfort of one smart phone app.
Once they reach adulthood, Peridot will have extraordinary traits they can pass on to their offspring ⁠— who, themselves, can develop to become even more unique than their parents. Several types of traits will exist in the game leaving the creatures with appearances not unlike those of real-world species.
Peridot will soon enter into a soft-launch period with a limited release in order to effectively beta test the game. In turn, Niantic will use its users' experience to improve the game likely before its global reveal.
Interested players can sign up and pre-register for the game on the official Peridot website.
DBLTAP cannot confirm a release date for the game's full reveal or soft-launch beta. Players are encouraged to check in with the official Peridot sources or their trusted news outlets for more information as it becomes available.