FIFA
Nick Pope FIFA 22: How to Complete the Player Moments SBC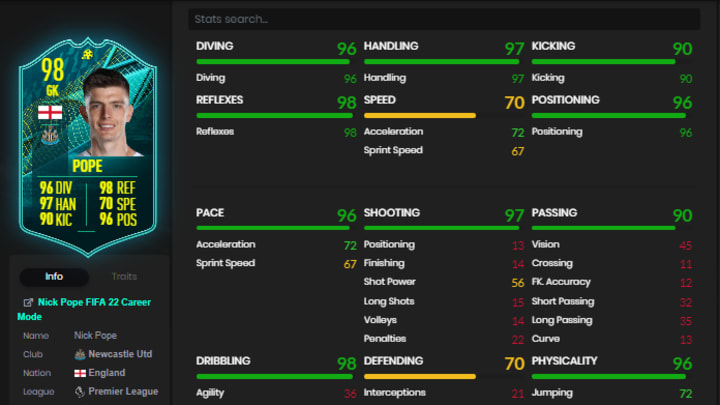 Photo by FUTBIN
Nick Pope FIFA 22 Player Moments SBC went live Sept. 5 during the FIFA 23 Pre-Season promotion.
Pre-Season includes not only rewards for the upcoming FIFA 23, but also special items in the final days of FIFA 22 for players who transferred clubs in the summer. Nick Pope, a FIFA Ultimate Team cult hero, moved to Newcastle United and received a 98 rated item. This new card looks like the best goalkeeper not only in the Premier League, but all of FIFA 22.
Nick Pope FIFA 22: How to Complete the Player Moments SBC
Here's how to complete the FIFA 22 Moments Nick Pope SBC:
One Segment
# of Players from Premier League: Min. 1
Squad Rating: 86
Team Chemistry: 60
# of Players in the Squad: 11
On the surface, he's got top tier statistics in all the right areas. Fans might be wondering what makes Pope stand out from the likes of David De Gea, Thibaut Courtois, Alisson, Ederson and more. Well, for one, he's 6'6''. And, this new card has five-star skill moves. Something goalkeepers really don't need, but why not at this point in FIFA 22?
He's cheap to craft considering the 85 x10 Upgrade SBC and the amount of fodder players should be getting from objectives. Plus, for fans trying to get 97, 98 or the fabled 99 rated squad, this card will likely be required to make it happen.
Moments Pope expires Sept. 12 at 1 p.m. ET.