Nick Pope FIFA 23: How to Complete the Showdown SBC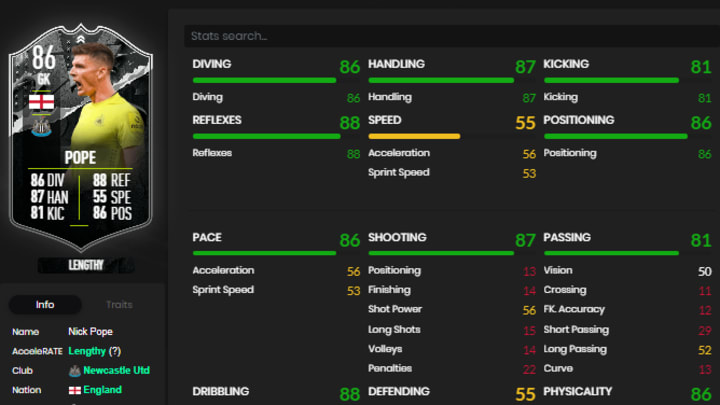 FUTBIN
Nick Pope FIFA 23 Showdown SBC went live Dec. 21 ahead of the Boxing Day match between Newcastle United and Leicester City.
Showdown SBCs are released periodically throughout a FIFA Ultimate Team cycle. These SBCs highlight a match and a player from each team receives an SBC. The player from the winning team receives an additional +2 upgrade while the losing team's player does not get upgraded. In the case of a draw, both players receive a +1 upgrade.
The latest Showdown SBC pairing highlights Nick Pope and Danny Ward, two Premier League goalkeepers returning to competition following the World Cup.
Nick Pope FIFA 23: How to Complete the Showdown SBC
Here's how to complete the FIFA 23 Showdown Nick Pope SBC:
One Segment
Premier League Players: Min. 1
Squad Rating: 84
No Chemistry Requirement
Players in the Squad: 11
Pope is a fan-favorite keeper in FIFA Ultimate Team and this SBC provides players with a new option for Premier League squads. Most players who run Premier League GKs will use David De Gea, Ederson or Alisson. Now, especially if Newcastle United beat Leicester City, this will be a top option given the expected boosts.
There are three days remaining on the SBC, as of writing, so players will want to complete this SBC before the day of the match.