Call of Duty
NICKMERCS Reveals Favorite H4 Blixen Loadout After Returning to Warzone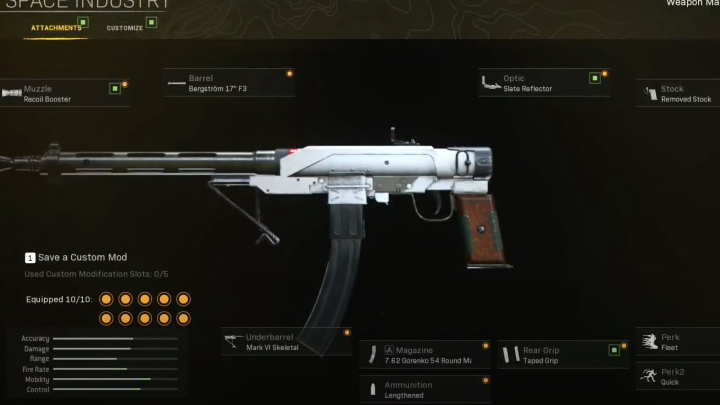 Using the H4 Blixen, NICKMERCS has shredded enemies since his return, with a combination of damage and mobility. / Photo Courtesy of NICKMERCS/Activision
Nick "NICKMERCS" Kolcheff is one of the most popular Call of Duty Warzone content creators out there. Fans always tune in to see his favorite load-outs and strats in the Battle Royale. He left the game in 2021 after dealing with more hackers and cheaters than he could bear, but he recently made his long-awaited return to Warzone, and he's shared his new favorite loadout.
Using the H4 Blixen, NICKMERCS has shredded enemies since his return with a combination of damage and mobility. Here's how to build his new loadout. 
NICKMERCS' Best H4 Blixen Loadout After Returning to Warzone
Muzzle: Recoil Booster
Barrel: Bergstrom 17″ F3
Optic: Slate Reflector
Stock: Removed Stock
Underbarrel: Mark VI Skeletal
Magazine: 7.62 Gorenko 54 Round Mags
Rear Grip: Taped Grip
Ammunition: Lengthened
Perk 1: Fleet
Perk 2: Quick
The loadout raises every stat in the Blixen's arsenal, with a focus on control, mobility and fire rate. It's versatile enough to be used on any Warzone map in the current Meta, and is especially good in the short-range battle or speeding around tight corners of buildings to evade an enemy and take them out from behind.
The Mark VI Skeletal, Taped Grip, Removed Stock, Fleet, and Quick attachments and perks raise the Blixen's ADS and mobility, without much sacrifice of the weapon's power. Combined with the Bergstrom 17″ F3 barrel and Recoil booster, you also get boosted range and damage. 
While the weapon won't be the best in any particular category, it's powerful and well-rounded enough to light enemies up in any setting, thus making it NICKMERCS' new favorite weapon loadout in Warzone. For a new SMG to add to your loadouts, try this one out and see what NICKMERCS likes so much about the Blixen yourself.