Call of Duty
NICKMERCS Reveals His NZ-41 Warzone Pacific Loadout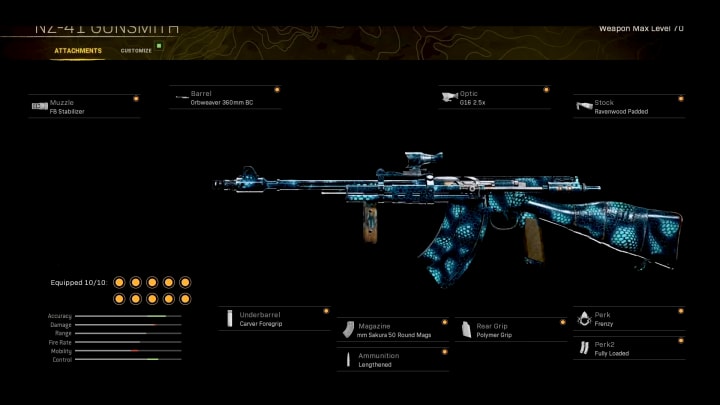 Call of Duty content creator Nick "NICKMERCS" Kolcheff has published his loadout configuration for the NZ-41 in Warzone Pacific. / NICKMERCS, Activision
Call of Duty content creator Nick "NICKMERCS" Kolcheff has published his loadout configuration for the NZ-41 in Warzone Pacific.
Call of Duty (COD): Warzone Pacific Season 1 is well underway and players are eagerly outfitting their weapons to achieve the best results. As with Vanguard, the latest main series franchise release, weapons in Caldera are allowed up to 10 augmentations and/or attachments to allow for the utmost customization. This has allowed for some truly unique builds—such as one outlined by none other than prolific FPS player and streamer, NICKMERCS.
NICKMERCS NZ-41 Warzone Pacific Loadout Explained
NICKMERCS showcased his build for the NZ-41 assault rifle in a new video uploaded to his YouTube channel on Saturday, Dec. 11. The video shows off his new build in a match with fellow content creators TimTheTatman and cloakzy. He manages to pick up the weapon from a supply drop about eight minutes in and gets more than a handful of choice picks almost immediately afterward.
His attachments on the NZ-41 are as follows:
Ammunition: Lengthened
Barrel: Orbweaver 360mm BC
Magazine: 6.5mm Sakura 50 Round Mags
Muzzle: F8 Stabilizer
Optic: G16 2.5x
Perk: Frenzy
Perk 2: Fully Loaded
Rear Grip: Polymer Grip
Stock: Ravenwood Padded
Underbarrel: Carver Foregrip
As the attributes chart clearly shows, this loadout greatly increases the weapon's accuracy and control while only sacrificing some mobility and a bit of damage off the top. Regardless, the weapon is a mid-range monster, as NICKMERCS shows in his video. He's able to melt an enemy team at that range and completely foil their assault halfway through the play.
Obviously, NICKMERCS skill and his coordination with his teammates are factors that should not be overlooked. A powerful weapon is certainly still part of that strategy, however, and the NZ-41 AR is clearly the clutch weapon in the match.