Nickmercs Warzone Loadout: What Does He Use on His M4A1?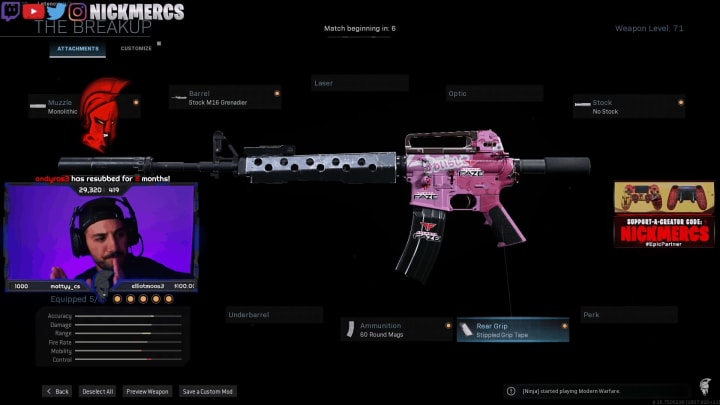 Nickmercs Warzone Loadout / Photo Courtesy of Nickmercs
Nickmercs Warzone Loadout includes the popular AR M4A1. Here is a look at his favorite AR setup.
Nickmercs Warzone Loadout
The M4A1 is arguably the best AR in Call of Duty: Modern Warfare. It has high damage and is great for any range of play. Nickmercs Warzone primary loadout includes:
Muzzle: Monolithic Suppressor
Barrel: Stock M16 Grenadier
Stock: No Stock
Ammunition: 60 Round Mags
Rear Grip: Stippled Grip Tape
With these attachments, the M4A1 has increased mobility, ammo capacity, and damage range. Give this class a try if you are an in-between player. If you are someone who wants more control, swap out the ammunition for an optic or underbarrel.
For his secondary, it all comes down to situational awareness. If you are fine with a pistol, equip Ghost for your secondary perk in place of Overkill. Add Cold-Blooded to remain hidden from Thermals and Tracker to see enemy footsteps for more aggressive play.
Nickmercs likes to run a Semtex for his Lethal and a Heartbeat Sensor for his Tactical. The Semtex is a sticky grenade that gives you more control over a typical frag grenade. The Heartbeat Sensor is a popular Tactical among Warzone players because it acts as a personal UAV that never expires. Don't rely on the Heartbeat sensor too heavy, though. Players running the Ghost Perk are immune to it and won't be spotted.