FIFA
Nicolas Cozza FIFA 22: How to Complete the Winter Wildcards SBC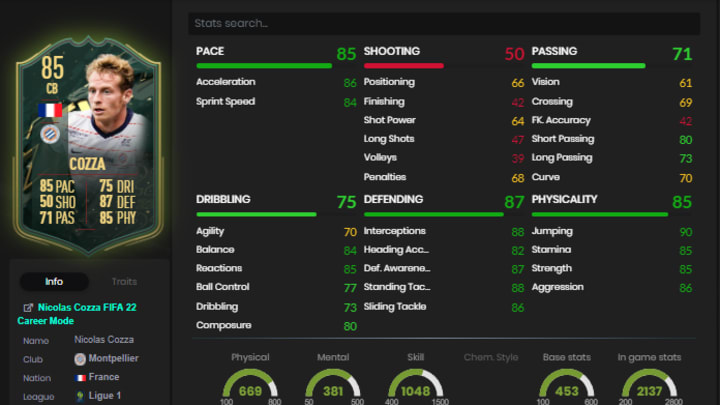 Photo by FUTBIN
Nicolas Cozza FIFA 22 Winter Wildcards SBC went live Dec. 26 as a new daily player SBC during the winter promotion.
EA Sports has released daily player SBCs since the start of Winter Wildcards. Some releases have been popular among players like Wilfried Zaha and Philippe Coutinho. Cozza looks to be a strong option for Ligue 1 sides needing a new defender or French squads needing a valuable link. Presnel Kimpembe and Marquinhos remain top tier defenders in the game, so Cozza might be that pairing players need.
Nicolas Cozza FIFA 22: How to Complete the Winter Wildcards SBC
Here's how to complete the Winter Wildcards Cozza SBC in FIFA 22:
Segment 1
# of Players from Ligue 1: Min. 1
Team of the Week Players: Min. 1
Squad Rating: 82
Team Chemistry: 80
# of Players in the Squad: 11
REWARD: Premium Electrum Players Pack
Segment 2
# of Players from France: Min. 1
Squad Rating: 86
Team Chemistry: 60
# of Players in the Squad: 11
REWARD: Premium Gold Players Pack
Cozza's second segment might turn players away from completing this card, but it's coming in around 100,000 coins to finish from scratch. He's got strong pace, great defending and physicality. His agility might turn some players away as well.
Winter Wildcards Cozza expires Jan. 2, 2022.