FIFA
Nicolo Zaniolo FIFA 22: How to Complete the Rulebreakers SBC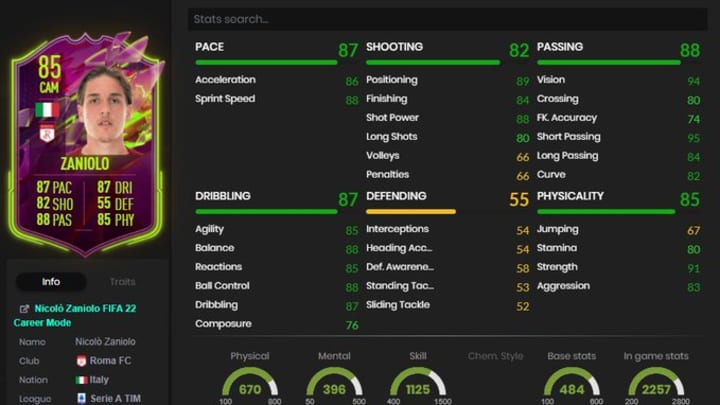 Photo by FUTBIN
Nicolo Zaniolo FIFA 22 Rulebreakers SBC was released Nov. 10 alongside a slew of other content.
Rulebreakers is coming to an end and it seems Zaniolo will be the last piece of content released. It might even go unnoticed to many players considering Team of the Week 8 features Neymar Jr. and EA Sports revealed the Numbers Up promotion. EA Sports has released multiple midfielders as SBCs during the promotion, so some might be hesitant to complete Zaniolo.
Nicolo Zaniolo FIFA 22: How to Complete the Rulebreakers SBC
Here's how to complete Rulebreakers Zaniolo and if it's worth it:
Segment 1
Team of the Week Players: Min. 1
# of Players from Roma FC: Min. 1
Squad Rating: 83
Team Chemistry: 80
# of Players in the Squad: 11
REWARD: Small Gold Players Pack
Segment 2
# of Players from Italy: Min. 1
Squad Rating: 84
Team Chemistry: 75
# of Players in the Squad: 11
REWARD: Small Prime Electrum Players Pack
Rulebreakers Zaniolo is coming in around 50,000 coins to complete from scratch, as of writing. It will likely come down a little bit as well. On the face, Zaniolo looks like a great card. Unfortunately, he's only 85 rated so completing this card and using him as fodder later on doesn't seem like a viable reason.
If you are looking for an attacking midfielder from the Serie A though with strong links to items like Nicolo Barella, then Zaniolo looks like a worthy addition to squads. He's got well rounded pace, shooting, passing, dribbling and physicality.
Rulebreakers Zaniolo expires Nov. 17.