FIFA
Niklas Sule FIFA 22: How to Complete the Showdown SBC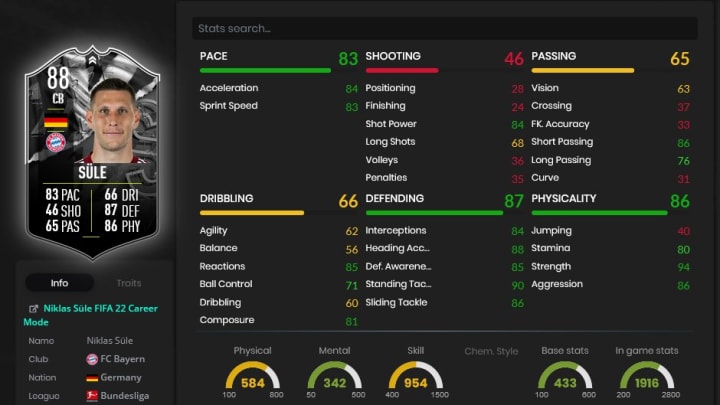 Photo by FUTBIN
Niklas Sule FIFA 22 Showdown SBC was released Dec. 4 alongside the Gerard Pique item marking the first Showdown release of this Ultimate Team cycle.
Showdown SBCs are some of the most exciting content EA Sports releases during a game cycle. The developer highlights a specific match in any given competition and awards special items to one player from each team. Each player receives an initial boost with the opportunity to get upgraded again based on the match result. If the player's team wins, they get another plus-two overall boost. If the player's team loses, they remain the same. If the match results in a draw, both players receive a plus-one.
The first Showdown SBC set highlights an upcoming Champions League group stage match between FC Bayern and FC Barcelona.
Niklas Sule FIFA 22: How to Complete the Showdown SBC
Here's how to complete the Showdown Sule SBC in FIFA 22:
Segment 1
# of Players from FC Bayern: Min. 1
Team of the Week Players: Min. 1
Squad Rating: 84
Team Chemistry: 70
# of Players in the Squad: 11
REWARD: Small Prime Gold Players Pack
Segment 2
# of Players from Bundesliga: Min. 1
Squad Rating: 86
Team Chemistry: 65
# of Players in the Squad: 11
REWARD: Rare Electrum Players Pack
Sule's requirements are basically the same as Gerard Pique. A nice caveat considering players are paying basically the same price for either item. FC Bayern is heavily favored to defeat Barcelona given both teams' recent run of form.
Sule's item is already strong and strong links to Dayot Upamecano's Ones to Watch item, but remember he can get upgraded even further.
Showdown Sule expires Dec. 7 at 1 p.m. ET.