Overwatch
No More Self-Repair? Overwatch 2 Bastion Rework Revealed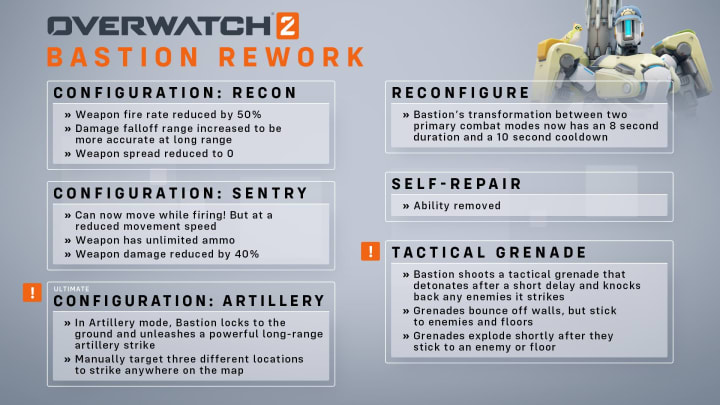 New gameplay footage from Overwatch 2 has revealed a host of changes to everyone's favorite battle omnic, Bastion. / Activision Blizzard Entertainment
New gameplay footage from Overwatch 2 has revealed a host of changes to everyone's favorite battle omnic, Bastion.
In a series of video clip insights posted to the verified Overwatch Twitter account, developers Aaron Keller, Arnold Tsang, and Geoff Goodman explained the newest tweaks coming to Bastion—both to his appearance and to his kit. The tweets were posted on Saturday, Sept. 25, and since garnered wide acclaim and controversy from the player base.
Overwatch 2 Bastion Rework Revealed
The first—and, probably, most startling change to Bastion—is the loss of his self-repair ability. Bastion can no longer settle down and fix himself up during downtime in a match.
The second largest change to Bastion's kit is his brand new ultimate: Artillery Mode. When activated, he "locks in" to the ground and can "call down" three aerial strikes whenever the player would like on the map—so long as the strikes care called during the duration of the move.
Bastion still has Sentry Mode, however, and can now move at a reduced pace while firing. His sentry gun has an unlimited amount of ammunition, but its damage is reduced by 40%.
He also still has Recon Mode, too, where his weapon fire rate is reduced by half but has received a range buff—so his damage falloff has been pushed back for further accuracy at longer ranges. There is also 0 weapon spread.
Each transformation to a different configuration takes 8 seconds and has a 10 second cool down.
Finally, the developers gave Bastion a new standard damage ability in the form of a tactical grenade. Players can now use the Alt. Fire button to fire an energy burst than manifests as a bouncy grenade that can ricochet off walls to implant itself in the ground or on other players. The grenade detonates after a delay to cause decent AoE damage.
Visual Changes
Appearance wise, Bastion has received much more than a fresh coat of paint. His bulkier appearance has been slimmed down and tuned-up to provide a more technlogically advanced feel like still maintaining that "rusted" aesthetic.
He also sports colors more like those seen in the plumage of his avian friend, Ganymede. In fact, the black-tipped striping on the bird's wings can be seen on Bastion's left shoulder-cap.
Speaking of caps, the art team have also given him one—a physical one which has Torbjorn's logo embroidered on the front. This, according to developers was intentional from both a humanizing and lore perspective. Torbjorn recently took in the omnic and gave him the set of upgrades now reflected in-game.