'No Plans' to Scale Back Development on Babylon's Fall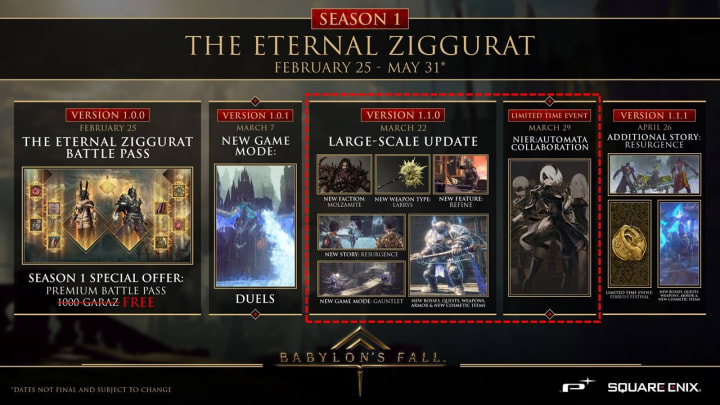 The content roadmap for Babylon's Fall Season 1. / Photo courtesy of PlatinumGames/Square Enix
Despite its disappointing launch, Babylon's Fall will continue to receive developmental support from Square Enix and PlatinumGames, the companies confirmed Friday.
Even during its launch week, the game struggled to find an audience on Steam, clocking fewer than 1,000 active players much of the time. It's also flopped critically, leaving little room for hope. But Square Enix says that hasn't deterred it from continuing to support the game.
"There are no plans to reduce the scale of development on Babylon's Fall," tweeted the official Babylon's Fall account. "Content up to the end of Season 2 is now practically complete and we have started work on Season 3 and beyond.
"We will continue to provide new content for the game and make improvements based on player feedback, striving to keep existing players playing and to attract newcomers. We would like to thank all Sentinels already enjoying the world of Babylon's Fall, as we look forward to welcome more of you in the future!"
Players sticking with Babylon's Fall have a full slate of new content to look forward to, including a gauntlet mode and a collaboration event with PlatinumGames' modern classic Nier: Automata. If you're looking to try it out for yourself, there's a free demo available on PlayStation and coming to PC later this month.