Nonconformist Warzone: How to Get the Weapon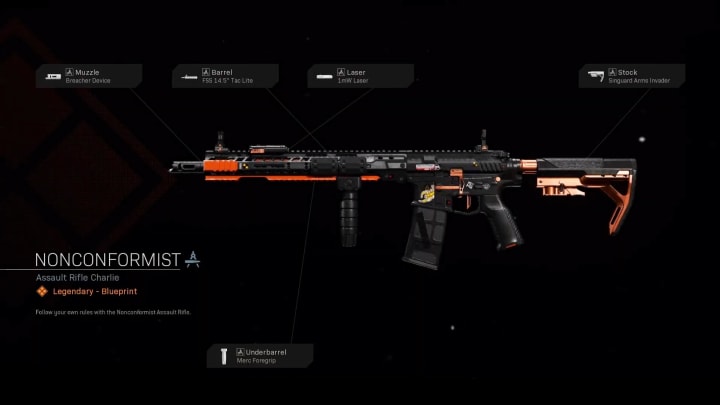 Nonconformist Warzone: how to get the newest weapon from its bundle / Activision via Games Atlas
Nonconformist in Warzone is a newer rifle that really packs a punch. It's no wonder players are wondering how to get the weapon.
The Nonconformist, also known as the "Anticonformista," is an assault rifle based on the M4A1. It is of legendary quality and specifically takes AR/LMG ammunition. There are five attachments available for it including modifications to the muzzle and barrel as well as the addition of a laser.
Visually, the weapon resembles any normal rifle of its class with a primarily black and dark gray color scheme. It features bright hunter's orange accenting on the muzzle, carrying through along the underbelly to the trigger, bottom of the grip, and lower stock.
Nonconformist Warzone: How to Get the Weapon
Players can get the Nonconformist blueprint as part of the "Prototype 367" Store Bundle alongside several other rewards. These include a legendary quality Striker 45 blueprint known as "The Reckoning," a rare "Sun Scorpion" sticker, and an animated epic "Murder Machine" emblem. The bundle costs 1400 CP.
The attachments that come along with the Noncomformist are:
Muzzle: Breacher Device
Barrel: FSS 14.5" Tac Lite
Laser: 1mW Laser
Stock: Singuard Arms Invader
Underbarrel: Merc Foregrip
The Nonconformist as greater accuracy and mobility than weapons of similar stock at the cost of control and range.