Apex Legends
Notorious Titanfall C.A.R. SMG Headed to Apex Legends Season 11: Escape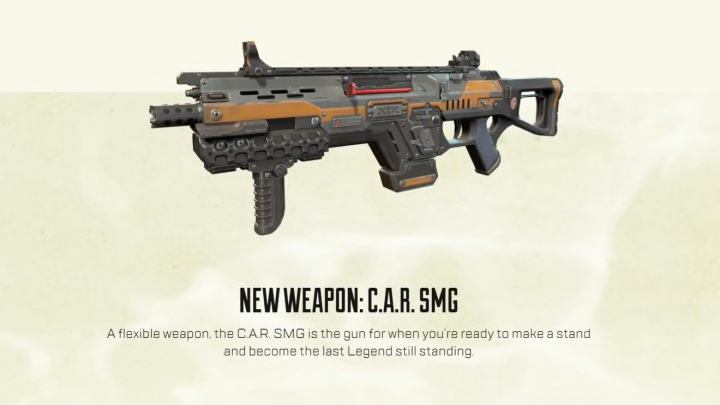 One of the most powerful weapons in Titanfall will be making its way into Apex Legends alongside Season 11: Escape. / Respawn Entertainment
One of the most powerful weapons in Titanfall will be making its way into Apex Legends alongside Season 11: Escape.
A new post recapping the additions coming to Season 11 has appeared on the official Apex Legends website—and the debuts will certainly shock longtime players. Alongside Ashleigh "Ash" Reid, a simulacrum originally cast as an antagonist in Titanfall 2, players will be able to equip the C.A.R. submachine gun during matches in the Apex games. It is among the most powerful weapons in the franchise which has undoubtedly excited Respawn fans.
Here's what we know about the reveal.
Notorious Titanfall C.A.R. SMG Headed to Apex Legends Season 11
Unsurprisingly, the C.A.R. is a submachine gun. It has been sighted in Apex a handful of times since the game's launch but has yet to be available for players to use in the game until Season 11.
It is a tough looking weapon with a sturdy body, primarily comprised of black metal with a lighter gray top and a sunny-orange stripe accent running horizontally across its side. It features a textured grip and trigger, sights on the very top, and hollow stock.
"A flexible weapon, the C.A.R. SMG is the gun for when you're ready to make a stand and become the last Legend still standing," its description reads.
Unfortunately, aside from this short sentence and its general appearance, there isn't any concrete information about the weapon or how it will perform in Apex Legends. We assume it will feel close to its Titanfall counterpart, but its unlikely players will have the same stats to take advantage of. DBLTAP cannot confirm any recoil, capacity, or fire rate capability at the time of writing.
Season 11: Escape's launch trailer will debut on Oct. 21.