Top Games
'Nova Pink,' 'Starlight Blue,' 'Galactic Purple' PS5 Controllers Are Available for Pre-order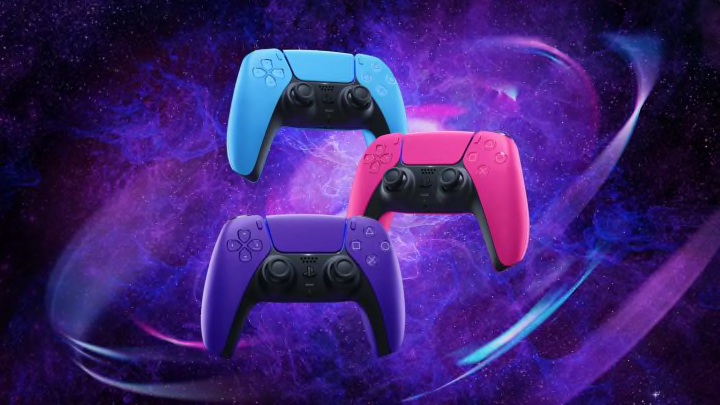 The new colorful versions of Sony's PlayStation 5 DualSense Wireless Controllers are now available for pre-order. / Sony
The new colorful versions of Sony's PlayStation 5 DualSense Wireless Controllers are now available for pre-order.
PlayStation 5 (PS5) owners can finally count on receiving a DualSense controller that matches the new faceplates on their console. For the first time since their reveal, Nova Pink, Starlight Blue, and Galactic Purple Wireless PS5 controllers can be pre-ordered from a variety of retailers.
Here's how to get your very own colorful DualSense controller for the PS5.
How to Pre-order the Pink/Blue PS5 Controller
Fans can pre-order the new colorful PlayStation 5 controllers through most major retailers. These include:
Nova Pink and Starlight Blue will release on Friday, Jan. 14, and will be shipped to customers that same day. Pick-up is not available at specific stores. These colors cost $74.99.
Due to the high demand, users may only purchase one of each color per household.
How to Pre-order the Purple PS5 Controller
Getting your hands on the Galactic Purple PlayStation 5 controller is a bit more complicated. While fans can have it shipped directly from the PlayStation digital storefront on Friday, Jan. 14, other retailers won't be able to provide the color until Feb. 11.
The Galactic Purple controller will only be available until its stock runs out. At the time of writing, it is still in stock and able to be purchased. For this reason, we recommend counting on the PlayStation store, first. Those who are willing to wait longer are welcome to visit the other retailers, however.
Due to the high demand, users may only purchase one per household.