Top Games
Octopath Traveler: Champions of the Continent Tier List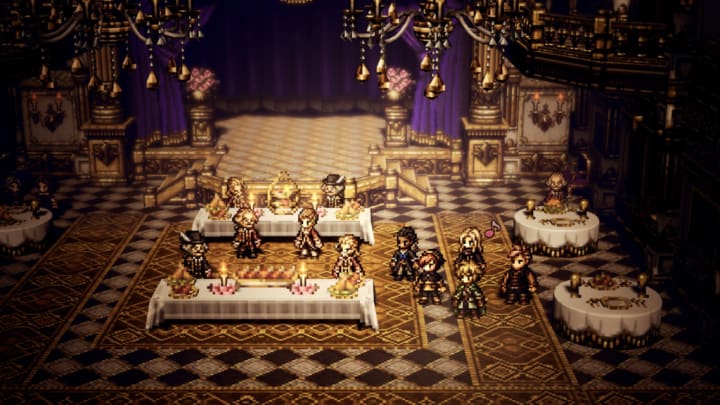 Octopath Traveler: Champions of the Continent was released for iOS and Android in the west on July 27, 2022. / Image courtesy of Square Enix
This Octopath Traveler: Champions of the Continent (CotC) tier list is here to break down which of the characters are the best to use now that the single-player, HD-2D JRPG is available to download and play on iOS and Android.
Being a prequel to the Nintendo Switch original Octopath Traveler (2018), Octopath Traveler: CotC invites fans to indulge in some free-to-play, gacha goodness that features a wide array of characters that certainly vary in combat prowess. As such, here is a breakdown of how the characters stack up in Octopath Traveler: Champions of the Continent, per Meow Database.
Octopath Traveler: CotC Character Rankings
S Tier
Lynette
Millard
Theo
Viola
Tressa
Gilderoy
Fiore
A Tier
Sofia
Madelaine
Scarecrow
Menno
Asylte
Cedric
Trish
Pia
Shelby
Noelle
Bertrand
Sigrid
Mabel
Iris
Helga
Merrit
Ramona
Wingate
Camila
Fabio
Laura
Barrad
Lucetta
Meena
Rodion
Kurtz
Miles
Devin
B Tier
Cless
Ashlan
Heinz
Jose
Diego
Peredir
Tahir
Eunice
Nanna
Telly
Yugo
Rita
Manuel
Vivian
C Tier
Dorrie
Felline
Pearl
Saria
Carroll
Evelyn
Harry
Billy
Julio
Menny
Penny
Conny
Juan
Jorge
Guti
Sunny
Keep in mind, players might end up altering their own personal parties based on their preferences for synergies or even simply character relatability.
Additionally, Octopath Traveler: CotC did release in Japan a couple of years earlier, meaning that not all of the heroes from that version are available to be to be listed here.