Old Growth Warzone Blueprint: How to Get the Kar98k Blueprint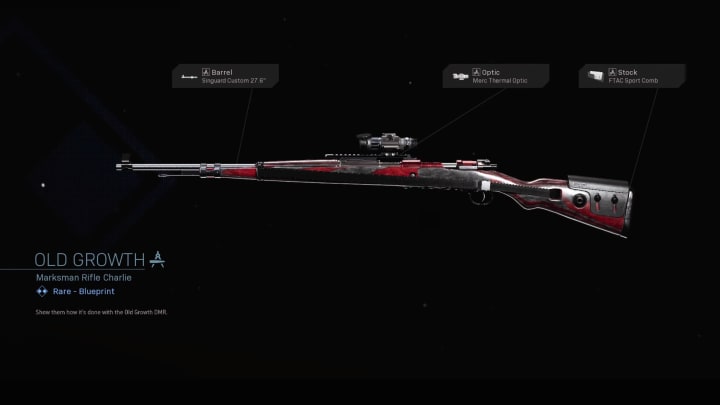 Old Growth Warzone Blueprint is a weapon variant for the Kar98k sniper rifle that can be used in Call of Duty Warzone / Photo by Infinity Ward via GamesAtlas
Old Growth Warzone Blueprint is a weapon variant for the Kar98k sniper rifle that can be used in Call of Duty Warzone. The Kar98k is one of the most common sniper rifle weapon drops that can be found in game, but it's rarely chosen by players for loadouts given the power of other sniper rifles. This blueprint can make the weapon a lot more viable for serious use.
Blueprints are helpful to new players who want to use weapons or weapon attachments that they have not unlocked yet.
Old Growth Warzone Blueprint: How to Get the Kar98k Blueprint
The Old Growth Warzone Blueprint is unlocked from the Season 4 battle pass. It is only a rare blueprint meaning it only has three attachments, but also comes with a clean red and silver skin.
Attachments:
Barrel: Singuard Custom 27.6"
Optic: Merc Thermal Optic
Stock: FTAC Sports Comb
These three attachments will significantly increase the weapon's range and accuracy. Plus, the thermal scope will allow for a lot easier player recognition when aiming down the sights. Unfortunately, there is a solid loss of mobility with these attachments, but as it's a sniper rifle, mobility is not of primary concern.
Check out some other popular Kar98k blueprints: