Olivier Giroud FIFA 22: How to Complete the Moments SBC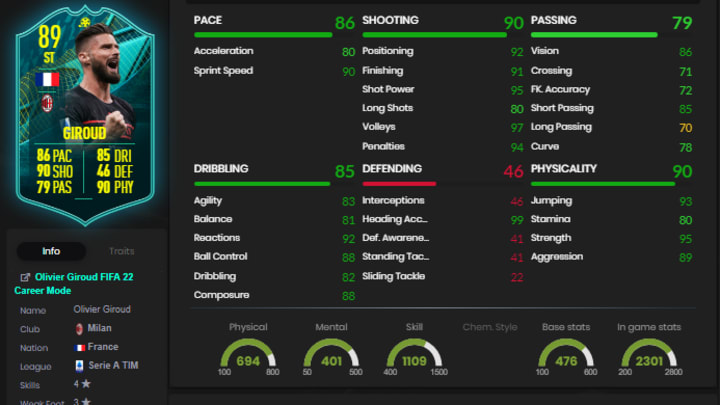 Photo by FUTBIN
Olivier Giroud FIFA 22 Moments SBC item went live Jan. 31 during Team of the Year. This is the first special item the AC Milan striker has received this FIFA Ultimate Team cycle.
Team of the Year is starting to wind down as the promotion is set to end Feb. 4 at 1 p.m. ET. That date and time will also mark the start of the Future Stars promotion. EA Sports kicked off the final week of TOTY with a Moments Olivier Giroud SBC. The SBC item celebrates the player's spectacular overhead kick goal against Atletico Madrid during Chelsea's Champions League campaign last season.
Olivier Giroud FIFA 22: How to Complete the Moments SBC
Here's how to complete the Moments Giroud SBC in FIFA 22:
One Segment
# of Players from France: Min. 1
Team of the Week Players: Min. 1
Squad Rating: 85
Team Chemistry: 75
# of Players in the Squad: 11
Moments Giroud is coming in around 93,000 coins to complete from scratch. Granted, the price of this can be drastically lowered through the numerous upgrade SBCs available. It's a fun item, but one that players might end up avoiding overall. Newer players might be tempted to complete it, but the Lautaro Martinez Honorable Mentions SBC is still available and a better item overall.
Chelsea fans or those looking for a fun card to complete will probably end up finishing this card.
Moments Giroud expires Feb. 14 at 1 p.m. ET.