Top Games
Online Campaign Co-Op, Forge Beta Added in Halo Infinite Winter Update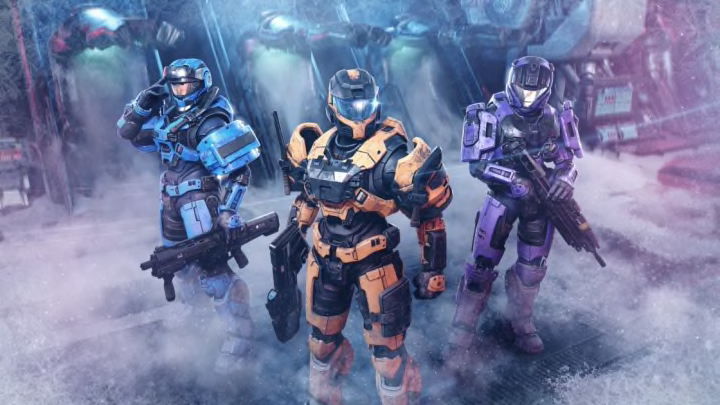 "This is the largest feature update to Halo Infinite yet." / 343 Industries
The Halo Infinite Winter Update was officially released Tuesday, bringing with it a number of highly anticipated features, including Campaign Network Co-Op, Mission Replay, the Forge Beta, and other new, free content for all players.
Here's a breakdown of everything you need to know about the Halo Infinite Winter Update.
Halo Infinite Winter Update: Campaign Network Co-Op
At long last, an online campaign co-op has been added to Halo Infinite, allowing up to four players to play through the entire Halo Infinite Campaign together online.
The Campaign Network Co-Op mode for Halo Infinite supports crossplay between Xbox and PC, and progress and unlocks are shared across all players. Using the selected save files, the Fireteam's campaign progress is aggregated so that the session's progress reflects content that all members have completed. This allows all progress made in co-op sessions to be applied to each player's individual save files. 
Collectibles, such as Data Pads and Skulls, will appear in co-op sessions if any Fireteam members have not collected them in their individual save. Collecting these items in co-op will unlock them for all Fireteam members who had not already collected them. If all players in the session have collected these items, they will not appear or be interactive. Unlocked equipment, equipment upgrades, and High-Value Target (HVT) weapon variants will remain unlocked for individual players in co-op sessions even if all Fireteam members have not yet unlocked them.
Halo Infinite Winter Update: Campaign Mission Replay
Main story missions and all side objectives like Outposts, Targets, and Marine Events can now be replayed from the TACMAP.
When replaying missions, the weapon loadout you currently have equipped will be used in the selected mission. You can use this to play earlier missions with weapon variants unlocked from late game Targets or with newly unlocked Skulls. Unlocked equipment and upgrades will also carry over to earlier missions, even if the selected mission takes place before that equipment is unlocked.
After completing a Mission Replay or when leaving a replayed mission early, the save file's current mission will resume at the latest checkpoint available and all content unlocked in the Mission Replay (such as Skulls and audio logs) will carry over to the current save permanently. Completing missions on higher difficulties will count toward Achievements as well.
Halo Infinite Winter Update: New Campaign Achievements
A total of 24 new Achievements have been added to Halo Infinite for an additional 420 Gamerscore. While some of these new Achievements can only be earned in Campaign Co-Op, many can also be earned while playing solo.
Halo Infinite Winter Update: Forge Beta
Forge has also finally been added to Halo Infinite with the Winter Update, inviting players to create multiplayer maps and game modes with in-game objects, effects, and scripts that can be shared with others via the Community tab in the main menu.
Since it is in beta, additional improvements are said to still be in the works. For now, the Forge Beta will support canvas maps and not developer-made maps (e.g. Live Fire, Recharge, Fragmentation, etc.), the latter of which is said to be implemented in a future update.
Halo Infinite Winter Update: Progression Changes
The Winter Update introduces two major changes to Halo Infinite progression systems: the Match XP beta and improvements to Weekly Challenges. With these changes, players can expect Match XP to be the main driver in their Battle Pass progression. Weekly Challenges, while still granting XP alongside the Match XP beta, will be a path to unlock additional customization items.
The new Match XP system rewards players for their performance in every matchmade multiplayer game. Weekly Challenges have been tweaked to be more "general" overall, had their requirement reduced from 20 to 10 to unlock the Ultimate Challenge, and can now be completed in any multiplayer playlist.
Halo Infinite Winter Update: Free 30-Tier Battle Pass
The Winter Update's Battle Pass is said to be completely free for all players, will never expire, and contains a wide selection of highly requested, fan-favorite Halo: Reach-themed customization items.
Over the coming months, two free events will bring 20 additional free reward tiers to the battle pass. In December, Winter Contingency will offer a series of Holiday-themed cosmetics, while the Joint Fire event in January will center around the JFO-class Mjolnir armor and other related cosmetics.
Halo Infinite Winter Update: Two New Maps
Argyle is described as a tight, indoor, symmetrical map set within the narrow corridors of a UNSC vessel, and is said to be one of the game's first multiplayer maps to be built entirely within Forge.
Also built entirely within Forge, Detachment is a new symmetrical arena map set at a once-abandoned UNSC research facility atop a rocky outcropping, providing indoor and outdoor environments to fight in.
Halo Infinite Winter Update: New Game Mode
Covert One Flag is a new variant of One Flag CTF. In this round-based mode, attackers and defenders swap sides as they battle for control of a single flag. The mode features asymmetric team loadouts that equip attackers with Active Camo, while defenders possess Threat Sensors. The team who wins the majority of rounds wins the match.
Halo Infinite Winter Update: Playlist Rotational Rework
Playlists in Halo Infinite are also getting a new rotational rework to keep things fresh for players week-to-week.
Permanent Playlists
Quick Play
Big Team Battle
Ranked Arena
Fiesta
Tactical Slayer
Team Slayer
Rotational Playlists
Rotational Core: A playlist that is typically close to the core Halo gameplay experience, similar to Quick Play (e.g., Team Snipers, Team Doubles, etc.)
Rotational Social: A playlist that is usually closer to the fun, social, and whacky side of Halo (e.g., Social Slayer, Big Team Social, Rumble Pit, etc.)
Rotational Ranked: A playlist that fosters a competitive experience (e.g., Ranked Doubles, Ranked FFA, etc.)
Event playlists: A slot that will be used when Events roll into the game (e.g., Cyber Showdown, The Yappening, etc.)
Halo Infinite Winter Update: Matchmaking Improvements
The matchmaking experience is also being improved with the Winter Update via the addition of local region matchmaking, improved logic for CSR progression, improved rules for quitting with uneven teams, and more.
For the full list of balance changes, resolved issues and bug fixes, and known issues, feel free to check out the Halo Infinite Winter Update patch notes.