OTK Places Mizkif on Leave Following Sexual Assault 'Cover-up' Allegations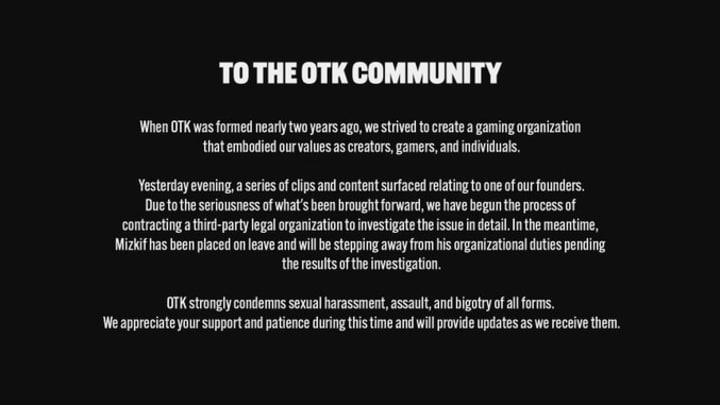 Photo by OTK
Following the dramatics of ItsSliker's recent gambling scam allegations on Twitch, streamer Mizkif has been suspended from OTK after streamer Trainwrecks raised allegations that he covered up sexual assault.
Content warning: Descriptions of sexual assault
Yesterday, Sept. 20, streamer ItsSliker was accused of scamming multiple streamers out of thousands of dollars in order to fuel a gambling addiction. The news led numerous streamers to call on Twitch to implement a ban on gambling streams. OTK co-founder Mizkif was one of the streamers calling for the ban alongside fellow owner Asmongold.
The drama escalated when Asmongold tweeted asking why Sliker had not been banned from Twitch at the time. Streamer Trainwreckstv replied that Asmongold's "pals" had used the gambling situation to "somehow twist it and wager their war against me."
Mizkif responded in a now deleted tweet, saying, "If we're going to deplatform people for scamming others shouldn't we have banned you for jolt coin a few years back?" It was this that prompted Trainwrecks to respond with allegations that Mizkif was responsible for covering up a sexual assault.
Trainwrecks' allegations toward Mizkif can be read here. Trainwrecks further clarified the allegations that Mizkif, "didn't assault the women, he orchestrated the cover-ups for his friends."
The accusations involve Mizkif's friend and one-time housemate CrazySlick as the perpetrator of the assault against streamer AdrianahLee, who later confirmed the assault in a recent stream. She highlighted Mizkif's involvement in downplaying the assault and claimed that he used his influence to undermine her career and socially exclude her.
In response to the allegations, OTK posted a statement to Twitter saying, "a series of clips and content surfaced relating to one of our founders. Due to the seriousness of what's been brought forward, we have begun the process of contacting a third-party legal organization to investigate the issue in detail."
The statement continued, "Mizkif has been placed on leave and will be stepping away from his organization duties pending the results of the investigation."
Mizkif issued a statement at 9:04 p.m. ET on Sept. 20 following the allegations. Mizkif stated that CrazySlick has been told to vacate the OTK house. He issued a follow-up tweet as well stating, "Slick sexually assaulted Adrianah. And there's no excuse for it. Her story deserves to be told. And I'm glad she was able to share it fully."