Valorant
OTV Valorant Tournament Teams Revealed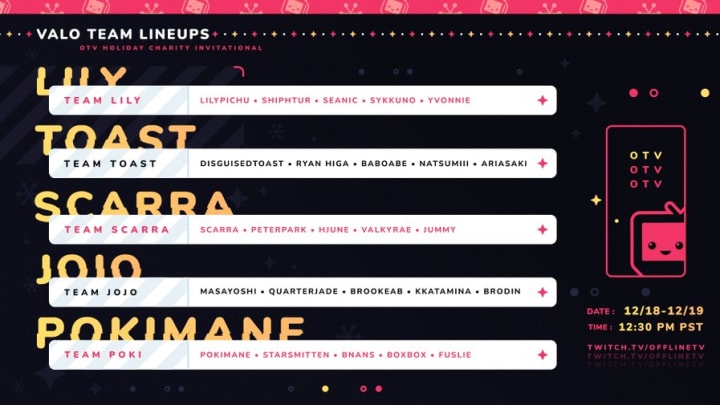 Photo courtesy OfflineTV
Offline TV is hosting a Valorant tournament, breaking into teams for their holiday charity event. With their own respective leaders, the five teams will duel it out from Dec. 18 to Dec. 19 on Twitch. 
OTV Valorant Tournament Teams
OTV never fails to disappoint in their content for the holidays. Usually releasing a simple holiday video such as Secret Santa, this time, the group of young internet personalities have created a charity event where five teams made up of members of OTV and friends will go head to head in a Valorant tournament.
The Teams
1.

Team Lily

Team Lily's members are Shiphtur, Seanic, Sykkuno, and Yvonnie. Team leader, Lilypichu, is most commonly known for her music and her art. As a very successful Twitch streamer, Lily and her team may be in a tight position among the others as there is some strong competition with not only experience but an overall strategy that might put this team in a corner.
2.

Team Toast

Team Toast's members are Ryan Higa, BaboAbe, Natsumiii, Ariasaki. DisguisedToast is most notably one of the smartest members of OTV, gaining a lot of his fame from his Among Us videos, his strategy may be the defining change in a game, and hopefully, his team can execute his plans successfully.
3.

Team Scarra

Team Scarra's members include PeterPark, HJune, Valkyrae, and Jummy. Scarra was a professional League of Legends esports player turned Twitch streamer, and even though League is different from the first-person shooter Valorant, that doesn't take away from the fact that Scarra might have the most experience in a professional field and can carry that energy with his team, having very capable members, each individual is capable of dominating the tournament.
4.

Team Jojo

Team Jojo's members include Masayoshi, QuarterJade, Brookeeab, Kkatamina, Brodin. Jojo is not a part of OTV like some of the other team leaders, but the most recent members, Masayoshi and Quarter Jade are the most noticeable aspect of this team, as Masayoshi, or John, is considered one of the strongest Valorant players in OTV, getting ranked above Platinum, this duo is highly favored among the OTV fans to win for the tournament.
5.

Team Pokimane

Team Pokimane's members include Starsmitten, Bnans, Boxbox, Fulsie. This team has not been given much attention online as a leading contender in the tournament, maybe Pokimane's team may surprise their viewers in the end, but so far it is not looking good for team Pokimane.