Overwatch 2 Battle for Olympus Leaderboard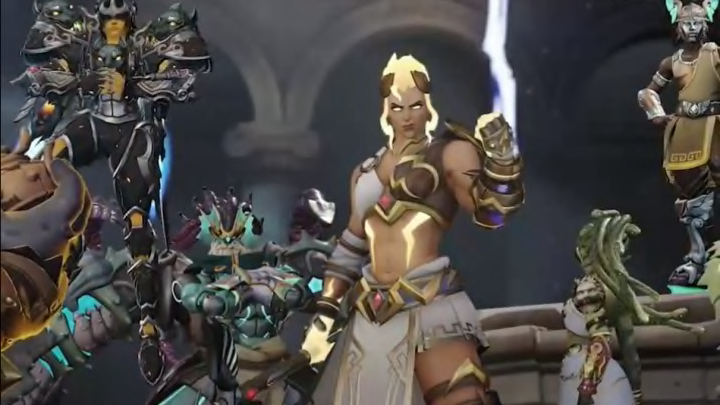 The Battle for Olympus competition in Overwatch 2 is heating up. / Blizzard
Overwatch 2's Battle for Olympus event is ongoing, and by the end of the week, players will have found out which hero is the godliest of them all.
As part of the event, Blizzard introduced a leaderboard that tallies the scores made by individual heroes in the new, limited-time deathmatch mode. At the end of the event, the hero that tops the leaderboard will be immortalized with a marble statue in their honor, to be seen by players on the Ilios Ruins map. Players also have the opportunity to complete a new battle pass and challenges to earn new cosmetics.
Overwatch 2 Battle for Olympus Leaderboard
As the Battle for Olympus event comes to a close, Junker Queen leads the pack, having scored over 32,000,000 eliminations during the event. The hero, introduced last year, has quickly become a fan-favorite, bringing to Overwatch 2 a powerful melee brawler. For the Battle for Olympus event, Junker Queen got the Zeus skin and a powerful boon to her Rampage ability. This has allowed players to dominate the leaderboard and accrue eliminations during the event.
Blizzard noted there was a small problem with their data-collection method that tracked the wrong stats for the event, but the issue has since been fixed. Leaderboard rankings did not change, leaving Junker Queen with a comfortable lead.
The hero in second place, Pharah, has just under 2,000,000 fewer eliminations than Junker Queen, and it's debatable whether she will be able to close the gap. However, there is almost a whole week to go in the event, and a surprising comeback may occur, allowing Pharah or another hero to dethrone Junker Queen and become the ruler of the Olympians.