Overwatch
Overwatch 2 Beta Update Improves 'Mercy Jump,' Sojourn Buffs, and More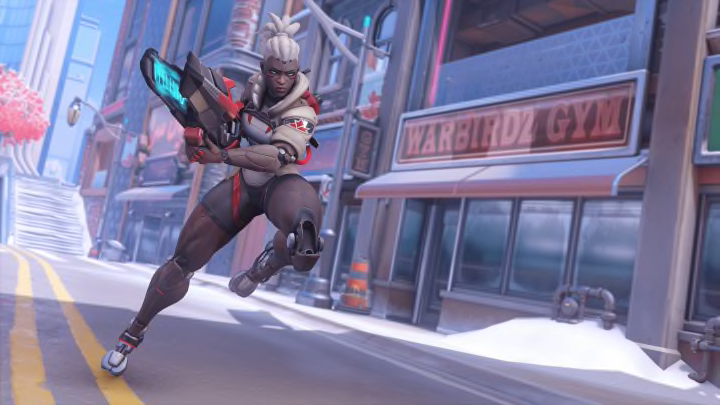 Blizzard Entertaiment has dropped the notes for the Overwatch 2 May 13 patch. / Courtesy of Blizzard
Blizzard Entertaiment has dropped the notes for the Overwatch 2 May 13 patch.
It appears that developers are eager to add some utility for their players. As of this patch, Mercy fans will have their own key to perform the community-coined "super jump" ability and Sojourn mains should see an uptick in their damage. Meanwhile, Baptiste players may notice a few more clutch scenarios easily solved in the midst of combat.
Overwatch 2 Beta Update May 13 Patch Notes
Mercy Jump Officially Added to OW2
Mercy's unofficial super jump has been added on to her Guardian Angel ability.
Previously, players were only able to pull off this feat when near another ally. Now, however, the development team has added a hotkey to pull it off with ease.
Can now also be canceled by using the crouch key. If this key is used to cancel the ability, Mercy will be launched high into the air.
"This new functionality will allow all players to more consistently perform similar boosts, while the original technique is still there and remains untouched." Developers wrote. "This is just an initial implementation and we're eager to get feedback on how to improve it."
Sojourn Railgun Buffs
Sojourn's railgun fire has received some buffs to its magazine and rate of fire.
Railgun primary rate of fire increased from 13 to 15 shots-per-second
Railgun maximum ammo increased from 40 to 45
This was done to help power-up this new hero who was a little "weak" at her initial debut.
As far as the double buff goes, the team explained, "Whenever a weapon's rate of fire changes, it also changes how quickly the weapon will drain its magazine and run out of ammo. We're increasing her ammo count to compensate for this."
Baptiste Regenrative Burst Splits Instant and Over Time
Baptiste's Regenerative Burst ability will now heal instantly with a second burst healing over time.
Now heals for 50 instantly and 50 over time, instead of 100 over time. Additionally, the instant heal portion will be doubled on targets that are 50% or lower health.
No longer heals Baptiste for double
Developers would like to alert players to the fact that they are aware of the UI error around this ability. These changes were made to "reinforce Baptiste as a support hero that can save allies in clutch moments."
"This new functionality is intended to synergize with Immortality Field, allowing for faster recovery after saving his allies (or himself!) from imminent danger," the team wrote.
---
The full patch notes can be found on the Overwatch website.