Overwatch League 'Calling All Heroes' Inclusive Program Announced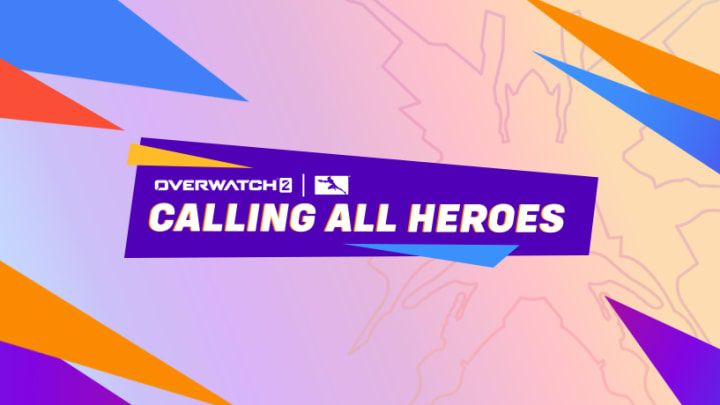 Calling All Heroes aims to improve the environment for underrepresented genders in the Overwatch 2 and Overwatch League communities. / Activision Blizzard Esports
Activision Blizzard Esports has announced Calling All Heroes, a new program designed to build an inclusive game and competitive environment for underrepresented genders in the Overwatch 2 and Overwatch League communities.
Earlier in the week, Blizzard revealed its Defense Matrix initiative for OW2, which hopes to protect gameplay integrity and drastically promote positive behavior in-game with aspects such as SMS protection and the new First-Time User Experience.
In 2022, Calling All Heroes is set to feature two main programs that aim to open new paths in the competitive ecosystem for new players and broadcast talent. Here's a breakdown of everything you need to know about the Calling All Heroes program.
The 2022 Calling All Heroes initiatives will include:
Challengers Cup: An esports competition in which teams of players from underrepresented genders can show off their skills in Overwatch 2
Caster Camp: An initiative that will identify promising esports casters from underrepresented genders and provide them with training and resources to improve their skills 
Calling All Heroes Challengers Cup
Calling All Heroes Challengers Cup / Activision Blizzard Esports
Similar to that of Valorant's Game Changers scene, the Calling All Heroes Challengers Cup will run alongside the Overwatch League's existing Path to Pro competitions — Third Party, Collegiate, Open Division and Contenders — in the fall and winter of 2022 as an additional competitive avenue for underrepresented genders.
Activision Blizzard Esports stresses in its announcement blog post that it does not view the new tournament as mutually exclusive to the other programs, however, and hopes it will serve as an entry point for underrepresented groups to jump into the broader Overwatch esports ecosystem and participate in both Challengers Cup and Path to Pro.
To host the upcoming Challengers Cup, the Overwatch League will partner with Raidiant, a production company and platform for underrepresented genders.
"It is my absolute honor to support the Calling All Heroes Challengers Cup through Raidiant," said Heather "sapphiRe" Garozzo, co-founder and executive producer of Raidiant. "It has been my personal and professional mission through Raidiant to ensure that everyone feels represented in esports. In addition to producing entertaining live broadcasts of the Challengers Cup, Raidiant will create compelling content featuring a number of the event's competitors, telling their impressive stories and building a fandom for these deserving gamers."
Calling All Heroes Caster Camp
Calling All Heroes Caster Camp / Activision Blizzard Esports
Led by Soe Gschwind, Matt "Mr. X" Morello and others, the Calling All Heroes Caster Camp will look to help create equity in the commentating space and produce a more diverse talent pool for the Overwatch competitive ecosystem.
Caster Camp participants will be given the opportunity to learn from established Overwatch League talent, build skills, form professional relationships with those in the esports broadcasting industry and submit a video reel of themselves trying their hand at casting an Overwatch map for review.
Registration for the Caster Camp program opened Sept. 30 and is set to close Oct. 28.