Overwatch 2 Cross-Progression Explained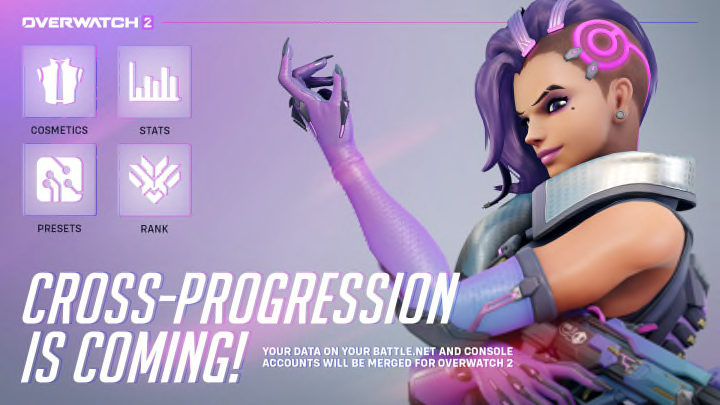 With the launch of cross-progression, players can merge multiple Overwatch accounts to carry progression and in-game cosmetics into Overwatch 2. / Image courtesy of Blizzard Entertainment
After initially announcing the feature in June, Blizzard released a new blog detailing cross-progression for Overwatch 2, including the process for merging accounts and carrying over progression and cosmetics into a single profile.
Here's a breakdown of everything you need to know about cross-progression in Overwatch 2.
Overwatch 2 Cross-Progression: How to Merge Accounts
Starting Aug. 16 in Overwatch, every player with a linked console account (Xbox, PlayStation, Nintendo Switch) will be prompted at login to identify, select and confirm the accounts they want to merge.
Players will only have this one opportunity to merge their console accounts, so Blizzard emphasizes making sure players double-check which accounts they are merging before they confirm.
Double-check that the correct console accounts are linked to your Battle.net account before confirming your account merge.

- Blizzard
Once players approve, Blizzard will prepare the accounts to be merged during the release of Overwatch 2.
All players will need a Battle.net account to play Overwatch 2 regardless of platform.
For console players, this account merge is also the only way to access and carry over progress into Overwatch 2. This includes players who linked their accounts during the Overwatch Cross-Play release.
For PC players, their progress will automatically carry over into Overwatch 2, and this gives them the option to merge any console accounts to their Battle.net account.
Progress from linked console accounts will be stored on players' Battle.net accounts, which will share in-game cosmetics and progress across the linked accounts.
Only one account per platform can be linked together. For example, if a player has two accounts on PC, they will not be able to merge those accounts. The same goes for multiple accounts on Xbox, PlayStation or Nintendo Switch.
Players will still be able to unlink their console accounts from their Battle.net account at any time after the merge. However, there is a one-year cooldown for linking new accounts to a Battle.net account.
Additionally, when players link a new console account to their Battle.net account after the merge, they will be able to access the progression and in-game items from the Battle.net account. However, it will not work both ways as the new console account will not transfer its progress and in-game items to the linked Battle.net account.
Overwatch 2 Cross-Progression: How it Works
Overwatch credits will be summed after merging accounts.
Overwatch League tokens across accounts will be summed up after merging. If you don't merge your accounts, Overwatch League tokens from console accounts will not transfer into OW2. Overwatch League tokens purchased on Nintendo Switch will not be merged and will remain on that platform.
All items in the Hero Gallery across platforms will be present in the merged Battle.net account. This includes all sprays, emotes, skins and everything else in the current Hero Gallery tab in-game. Duplicate cosmetics across platforms will be merged into a single Battle.net account.
Competitive and skill rating will be separated by PC and console input pools. The highest rank will be taken if players merge multiple console accounts.
Gameplay statistics are separated by input pool. Total values, like playtime or number of wins, will be summed. Best values, like hero accuracy or kill streaks, will take the highest value from the merged accounts.
Players' highest endorsement will carry over to their merged account.
All in-game achievements earned across each platform will be present in the merged Battle.net account. Console-specific achievements will remain on their respective platforms.
Gameplay settings are kept per-platform and will be kept that way when merged. Gameplay settings across consoles will be kept separate from PC Gameplay settings.
The custom game options in each account will be present in the merged Battle.net account. 
---
Overwatch 2 is set to release worldwide for PlayStation 4, PS5, Xbox One, Xbox Series X|S, Nintendo Switch and Windows PC (via Battle.net) Oct. 4, 2022.