Overwatch 2 Season 3 Twitch Drops: How to Get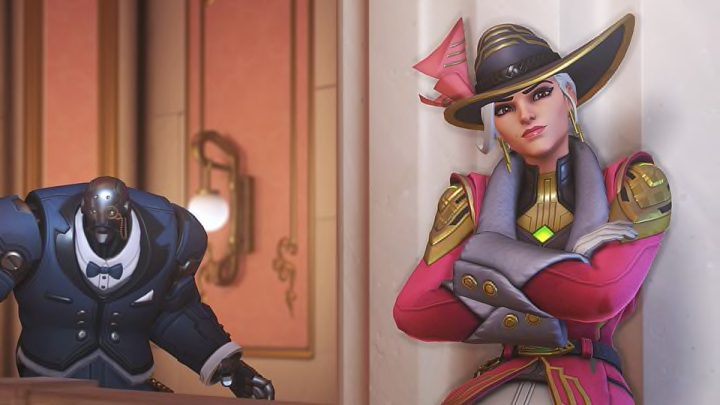 Blizzard
Players who have connected their Twitch to their Battle.net accounts are eligible to receive Overwatch 2's routine Twitch Drops for the new season to celebrate the Overwatch 2 Twitch community streaming the game.
The Twitch Drops will be released in waves, and below is a list of the cosmetics that will be released with each wave. Additionally, the first item listed requires two hours of watch time on a Twitch stream that has Twitch Drops enabled, and the second item requires four more hours of watch time.
Overwatch 2 Season 3 Twitch Drops Schedule
Wave 1 (Feb. 7 to Feb. 21)
"Seven of Spades" spray (Ashe)
"Socialite" skin (Ashe)
Wave 2 (Feb. 28 to Mar. 14)
"Poster" spray (Reinhardt)
"Crusader Helm" weapon charm (Reinhardt)
Wave 3 (Mar. 21 to Apr. 4)
"Commando" spray (Reaper)
"Blackwatch Logo" weapon charm (Reaper)
Not sure how to claim these rewards? Below is a step-by-step process to get these rewards in your Overwatch 2 if you aren't sure.
Overwatch 2 Season 3 Twitch Drops: How to Get
The first step to making sure you can get the Twitch Drops is linking your Twitch account to your Battle.net, which can be done by:
Log in to your Battle.net account.
Click the "Connect" button for the Twitch option.
Use your Twitch login to connect the accounts (you can make sure you've done this correctly by checking the "Connections" tab on battle.net).
Now that you've accomplished that, these are the instructions for getting the Twitch Drops:
Go to Twitch and make sure you are logged in.
Go to the "Overwatch 2" category.
Using the search filters on Twitch, find streams that are tagged "Twitch Drops enabled".
Follow the time requirement for the stream you're watching.
Claim rewards by going to your profile on Twitch and clicking "Drop and Rewards", once claimed they'll be automatically sent to your Overwatch 2 account.
Wave one of the event contains the "Socialite" Ashe skin and "Seven of Spades" Ashe spray, and will start Feb. 7, going until Feb. 21.