Overwatch
Overwatch 2 Twitch Rivals: Teams, How to Watch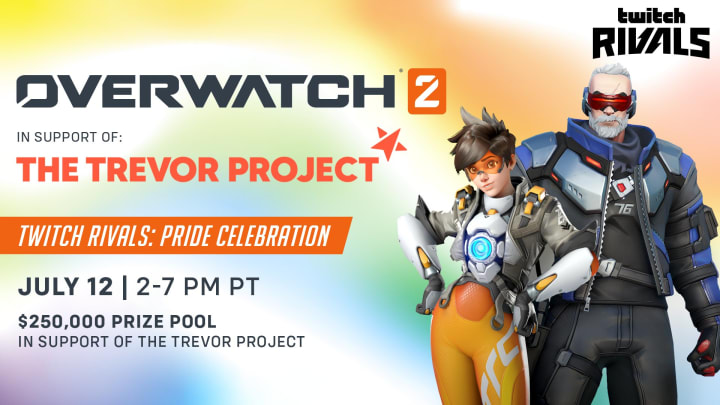 Overwatch 2 Twitch Rivals takes place Tuesday afternoon and evening. / Courtesy of Blizzard/Twitch
Overwatch 2 will play host to an LGBTQ+ Pride-themed Twitch Rivals tournament Tuesday, July 12. Why host the event two weeks after the end of Pride month? Unclear. But the tournament, being held in support of The Trevor Project, offers $250,000 in total prizing for the charities of the competitors' choosing.
Here's everything you need to know about the tournament, from where and when to watch, to who is set to compete.
Overwatch 2 Twitch Rivals Stream & Schedule
The Overwatch 2 Twitch Rivals Pride Celebration tournament kicks off Tuesday, July 12 at 5 p.m. ET and will run until 10 p.m. ET.
As is standard for Twitch Rivals tournaments, viewers can tune into the competition via the main Twitch Rivals channel, or via the personal streams of any of the competitors.
Overwatch 2 Twitch Rivals Teams
A total of 40 players will compete in the event in teams of five. Here are all the competing teams, with their captains listed first:
Overwatch 2 Twitch Rivals Format
The tournament will begin with a group stage, splitting the eight total teams into two groups of four teams. Each team in a group will play against each other team in that group in a single match. The two teams in each group with the best record will advance to the championship bracket; the other two teams from each group will move to the consolation bracket.
The bracket stage will include best-of-three, single-elimination matches on Push, Hybrid and Escort maps. Winning teams will progress to the finals, and the two losing teams will play for third place.
Overwatch 2 Twitch Rivals Prizes
The better a team performs in the tournament, the more they'll get to donate to their chosen charity. Here's how payouts breakdown according to placement:
1st: $50,000
2nd: $30,000
3rd: $20,000
4th: $15,000
5th: $15,000
6th: $12,000
7th: $10,000
8th: $8,000