Overwatch Anniversary Event 2020 Start Date: When Does it Begin? Courtesy of Blizzard /
Overwatch Anniversary Event 2020 start date is not yet known at this time, but based on past events we have a good idea of when it will be. The official Overwatch anniversary for the PC, PS4, and Xbox One versions took place the week before Memorial Day in 2019. As such, we can expect it to start on or before May 19 because the game updates on Tuesdays. But it could start as early as May 12 because the last event, Archives, started a month earlier than last year.
Here's everything you need to know about the Overwatch Anniversary event:
When Does Overwatch Anniversary Event 2020 start?
We have a pretty good idea of what emotes to expect to be available during the event. Dance emotes have always been a big part of the Anniversary event and the only heroes that don't have one yet are Echo and Sigma.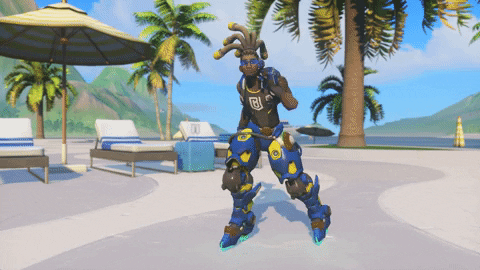 Another unlock to expect from the Anniversary event are the playing card sprays. Echo and Sigma are currently the only heroes that don't have them yet, but since Ashe has two, one for her and one for Bob, it is possible that some other heroes will get a second card. The most likely candidates are Ganymede for Bastion, a turret for Torbjorn and Symmetra, Snowball for Mei, and a Riptire for Junkrat.
Doomfist has a 9 of clubs Anniversary spray. / Courtesy of Blizzard
There probably won't be any highlight intros because past events never had them, but we can expect some skins. Unfortunately, Anniversary skins don't follow a specific trend, so we'll have to see what gets announced in the coming weeks.