Overwatch Fan Creates Artwork for Vampire Bob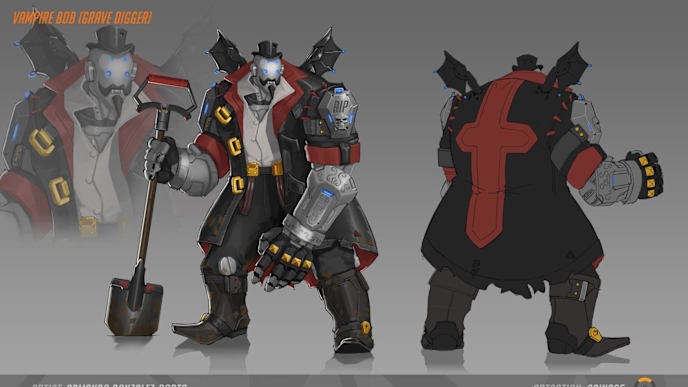 An Overwatch fan has created new concept art for a Vampire Bob. This piece is supposed to go alongside the Vampire Ashe skin that they recently created.
The skin concept was created by artist Armando Gonzalez-Dorta.
The skin depicts Bob as a gravedigger. Unlike other skins, Bob carries a shovel, which is purely cosmetic, but is a very nice touch. He wears a loosely fitted tuxedo, much like what a vampire would wear, and he even has a small pair of wings.
The artist has even created a custom animation idea for when Bob's time expires. Instead of flying away like he normally would, Bob will instead create a puff of smoke and transform into a tiny Omnic bat that will fly away from the battlefield.
Armando hopes to be able to join the Overwatch creative team to make more skins like the concept art he recently posted.
Photo courtesy of Armando Gonzalez-Dorta
Related Topics:
Overwatch