Overwatch Introduces Sojourn, the First New Hero to Join Overwatch 2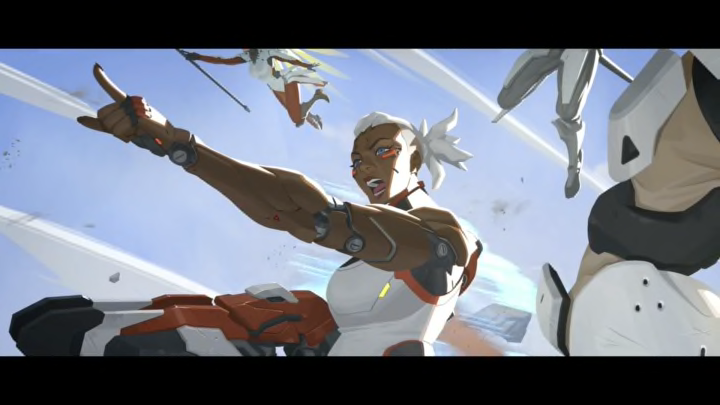 The Overwatch development team has revealed the origin story for the headlining hero of Overwatch 2: Sojourn. / Blizzard Entertainment
The Overwatch development team has revealed the origin story for the headlining hero of Overwatch 2: Sojourn.
In a tweet published on the verified Overwatch game Twitter account earlier today, Wednesday, April 13, fans were greeted with the official origin story video for Vivian "Sojourn" Chase. The narrative is framed within the context of a hearing with the "International Justice Commission" as Sojorun recounts some of the events that have led her to join, leave, and rejoin Overwatch as acting commander.
So, just who is Sojourn?
Who is Sojourn?
Vivian Chase ⁠— better known by her callsign, "Sojourn" ⁠— is the current acting commander of Overwatch.
She originally joined Overwatch by working with Jack "Soldier 76" Morrison. The two worked on a joint operation between her Canadian Special Forces group and the original Overwatch team during the Omnic Crisis. Following the conflict, Morrison invited her to join the team during the "Golden Age" and immediately post-crisis.
While we don't currently have a date or year of birth for her, we can assume she and Morrison are close to the same age due to their visible appearance in her origin story cinematic. This would place her age around late-40's to mid-50's.
Sojourn went on to recieve cybernetic brain enhancements during her career with Overwatch which, according to her, she is "at peace with." These are likely reflected in her now-glowing blue eyes and red implants along her cheekbones.
Her Overwatch career includes a handful of known missions, including wiping out forces associated with the terrorist cell, Talon, and playing a role in Storm Rising. Sojourn was the one who suggested going after Doomfist's accountant, Maximilien, and assigned Tracer as the point officer of a strike team aimed at bringing the omnic in due to the latter's growth following the King's Row Uprising.
Regardless of their task, Sojourn is adamant that her mission was to bring each and every soldier home every time.
She would remain in Canada after the team disbanded and, upon being recalled by Winston, took up the fight against the Null Sector in Toronto.
According to a panel about Overwatch 2 during BlizzCon 2019, Sojourn is meant to be at the very heart of the overarching plot of the sequel. She has been teased many times since then, though her exact abilities are not yet clear.
Some believe her name may be a reference to the African-American abolitionist, Sojourner Truth, who is most famous for her speech, "Aint I a Woman?" which was delivered in 1851. Truth is the first African-American woman to both win a legal case against a white man and have a statue of herself in the Capitol building.
Fans also believe Sojourn is the one to give Orisa her weapon.