Overwatch
Overwatch Vampire Bat Echo Skin Revealed for Halloween Terror 2021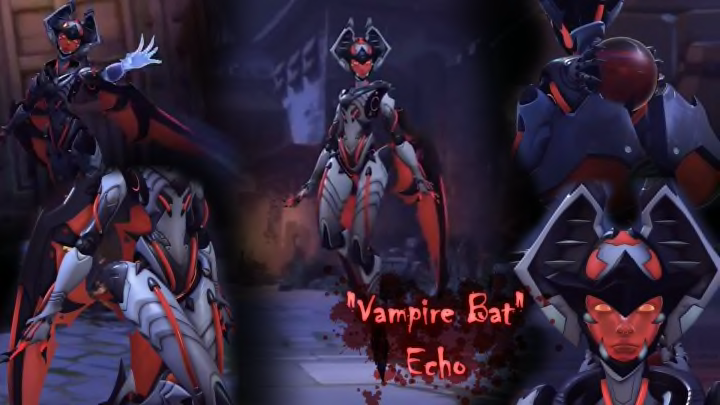 Blizzard Entertainment has revealed a new skin for Echo in tandem with the Overwatch Halloween Terror 2021 event. / Blizzard Entertainment
Blizzard Entertainment has revealed a new skin for Echo in tandem with the Overwatch Halloween Terror 2021 event.
The reveal went live at noon on Monday, Oct. 11 via a tweet posted to the verified Overwatch Twitter account. It showcased various animations of the technologically advanced DPS hero clad in obsidian black and red metal. Surprisingly, her abilities and special effects have not changed to fit the general aesthetic of the costume.
Here's what we know about the skin.
Overwatch 'Vampire Bat' Echo Skin Revealed
Echo's "Vampire Bat" skin is of legendary quality and features the sleek VI automaton encased in dark grey metal accented in obsidian black. Her new body is scaled, designed to look sharp with angels and layered plates along her legs and arms. Thick red wires run from parts of her limbs down ward her hands and feet which have been pointed and tipped with black claws.
Her wing "bones" have been restructured to more closely resemble a bat's with red membranes. Her head has seen a similar restructuring with two large "ears" on either side. It appears to have been designed as a bat's face, eyes narrowed and mouth wide to devour its prey. Echo's actual facial features are placed inside its open mouth—encased in four large fangs.
On her back, she carries an orb filled with a red liquid we assume is meant to be blood.
How to Get Overwatch 'Vampire Bat' Echo Skin
It's likely that players will have the opportunity to earn this skin in the same manner they have in the past—winning games in Quick Play, Competitive, Arcade, and so on. Each week of the event typically brings new challenges and new rewards to earn—though Echo appears to be in the first set of prizes.
Overwatch 'Vampire Bat' Echo Skin Release Date
Echo's new Halloween Terror skin will go live alongside the event on Oct. 12, 2021. Other revealed skins include "Draugr" Reinhardt.