Parejo FIFA 22: How to Complete the Rulebreakers SBC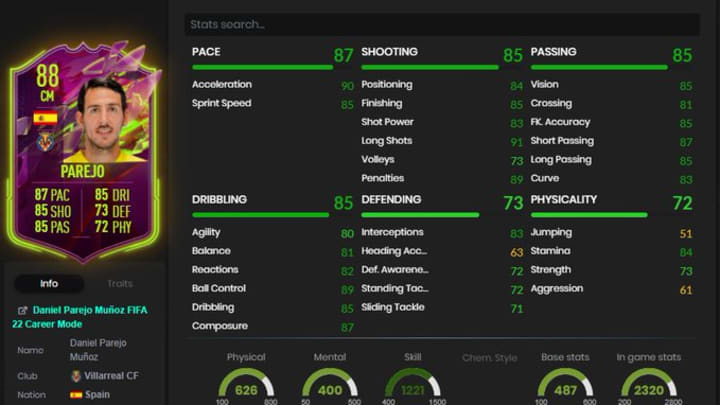 Photo by FUTBIN
Parejo FIFA 22 Rulebreakers SBC released Nov. 7 as a top midfield option for La Liga squads.
EA Sports has done a good job with the Squad Building Challenge items released during Rulebreakers. Especially in midfield considering Christopher Nkunku, Marco Verratti and now Daniel Parejo are all strong items. Parejo provides valuable links to items like Jesus Navas, Inaki Williams and more.
Parejo FIFA 22: How to Complete the Rulebreakers SBC
Here's how to complete the Rulebreakers Parejo SBC in FIFA 22:
Segment 1
Rulebreakers Players: Min. 1
Squad Rating: 83
Team Chemistry: 75
# of Players in the Squad: 11
REWARD: Premium Electrum Players Pack
Segment 2
# of Players from La Liga Santander: Min. 1
Team of the Week Players: Min. 1
Squad Rating: 85
Team Chemistry: 65
# of Players in the Squad: 11
REWARD: Rare Mixed Players Pack
Parejo boasts solid stats in all categories meaning players can choose a chemistry style for how they want him to operate. A Shadow or Anchor turns him into a versatile defensive midfielder, while an attacking boost makes him a top attacking player. His acceleration should make him feel quick on the ball, and he's got a four-star weak foot. The only downside to the card is a lack of traits such as Outside Foot Shot or Finesse Shot.
Rulebreakers Parejo expires Nov. 13 at 1 p.m. ET.