Patrik Schick FIFA 22: How to Complete the Bundesliga POTM SBC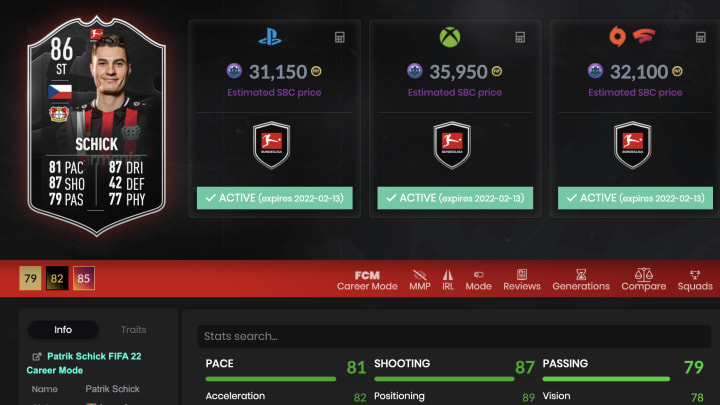 Patrik Schick has won the Bundesliga POTM award for December, and has been awarded a POTM SBC card in FIFA 22 Ultimate Team. / Photo Courtesy of FUTBIN
Patrik Schick has won the Bundesliga POTM award for December and has been awarded a POTM SBC card in FIFA 22 Ultimate Team. The previous winner was Bayern Munich's Alphonso Davies.
Schick scored 8 goals in December and helped Leverkusen to key wins in the month placing them fifth in the league.
Here's how to complete the new Schick Bundesliga POTM SBC in FIFA 22.
Patrik Schick FIFA 22: How to Complete the Bundesliga POTM SBC
Schick requires just one squad challenge to complete with the following requirements
Players from Bundesliga: Min 1
TOTW Players: Min 1
Squad Rating: Min 83
Team Chemistry: Min 70
The POTM SBC will cost around 25,000 coins to complete from scratch. While Schick may be a rising talent in the Bundesliga as well as for the Czech Republic, his card in FIFA 22 isn't the most eye-catching card. His big body type and shooting stats are good for players who like strong strikers to cross the ball into, but his two-star weak foot sets him back a lot. He isn't the fastest striker, and his high and average body type will make him heavy on the ball with low balance.
Unless you're a fan of Patrik Schick or Leverkusen, this card isn't the best POTM SBC we've gotten in FUT so far. If EA Sports upgraded his weak-foot he would be a solid striker, however you aren't missing anything if you skip this SBC.
Schick expires on Feb. 13.