Paul Pogba FIFA 22: How to Complete the Flashback Silver Stars SBC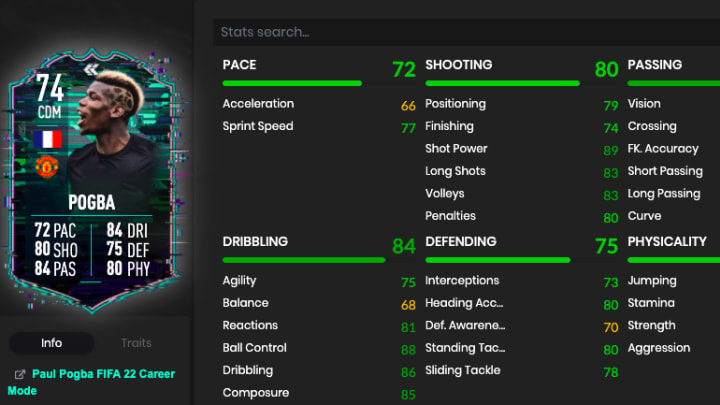 Paul Pogba's new Flashback Silver Stars SBC in FIFA 22. / Photo courtesy of FUTBIN
Paul Pogba is FIFA 22's latest Flashback Silver Stars card recipient, and players can unlock this new card by completing a simple Squad Building Challenge. Pogba is widely regarded as one of the best center defending midfielders in soccer, and this card takes him back nearly a full decade to his time on Piemonte Calcio, in Serie A. Here's how to unlock it.
Paul Pogba FIFA 22: How to Complete the Flashback Silver Stars SBC
Paul Pogba's new card emphasizes the French player's passing and dribbling, but it can still hold up in the physicality and shooting departments. Although it's labeled a center defending midfielder, Pogba's new card does its best work as a center midfielder, and can hold its own as a forward on either side. Here's how the headline stats play out in full:
Overall: 74
Pace: 72
Shooting: 80
Passing: 84
Dribbling: 84
Defense: 75
Physicality: 80
To unlock the card, you'll only need to create one team that fulfills one set of requirements. Maybe as a trade off, you won't get any other rewards outside of the card. Here's what that squad will need to unlock the new card:
Number of players from France: Min. 1
Squad Rating: Min. 83
Team Chemistry: Min. 80
Number of players in the Squad: 11
The card expires March 5.