Pepe FIFA 21: How to Complete the Liga NOS TOTS SBC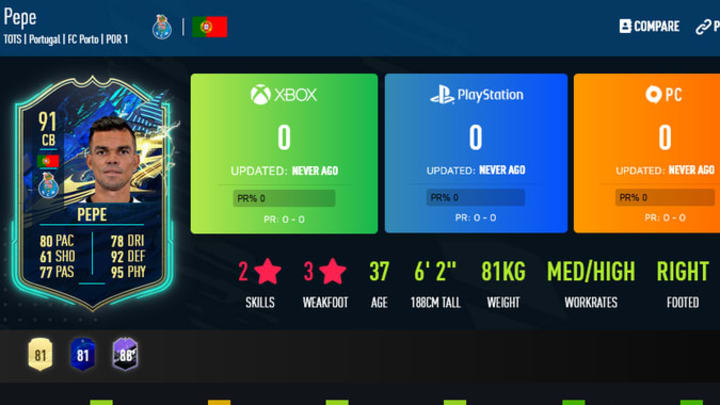 Photo by FUTWIZ
Pepe FIFA 21 Liga NOS Team of the Season SBC went live May 17 as the Portuguese league entered packs for the big end-of-season promotion.
FIFA Ultimate Team's Team of the Season is in full swing for FIFA 21. Each Friday, a major league enters packs and menu content is released. EA Sports offsets the wait for a new league by adding a new minor league in packs. The current squad is now Liga NOS following the EFL and Saudi Pro League.
Pepe, the legendary Portuguese defender, received an SBC item for his performances all-season long for FC Porto.
Pepe FIFA 21: How to Complete the Liga NOS TOTS SBC
Here's how to complete the TOTS Pepe SBC:
One Segment
# of Players from Portugal: Min.1
Squad Rating: 84
Team Chemistry: 75
# of Players in the Squad: 11
Pepe is rather cheap to complete, but the card is simply not worth it outside of future SBC fodder. He doesn't quite match up to the other items already released during TOTS, plus players might already have his What If card which isn't too far off in terms of stats.
TOTS Pepe expires May 21.